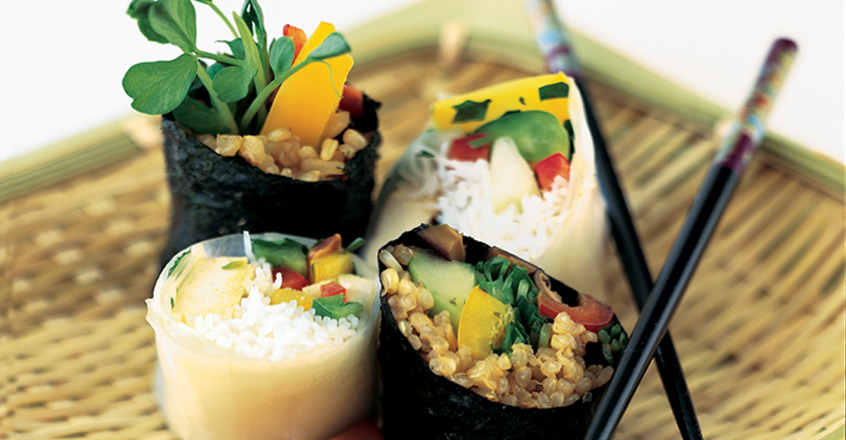 Ingredients
5 sheets toasted nori seaweed (dried laver)
2 ½ cups cooked brown rice
2 ½ tsp wasabi paste, or wasabi powder reconstituted according to package directions
1 avocado, peeled and cut into small cubes
1 cucumber, peeled and julienned
3 carrots, peeled and julienned
5 scallions, julienned
Instructions
1. Place a bamboo sushi rolling mat on a work surface so that the slats run horizontally. Place a sheet of nori shiny side down on the mat. Moisten your hands with water and spread 3⁄4 cup of brown rice evenly over the surface of the nori, leaving a 1 1⁄2-inch-wide strip at the top bare. Spread 1⁄2 teaspoon of wasabi paste horizontally about a third of the way up the sheet and place a portion of each vegetable on top of the wasabi.
2. Starting at the bottom, use the sushi mat to roll the nori tightly and evenly away from you, pressing down slightly as the roll turns. When you've reached the bare top edge, moisten it slightly before sealing. Repeat with the remaining nori, rice, and vegetables.
3. Wrap each roll in plastic wrap and refrigerate until serving. To serve, cut each roll with a sharp knife into 6 pieces, dipping the knife in water between cuts to keep the rice from sticking.
100% online, learn at your own pace
Instructor led format
No prerequisites
Continuing education credits