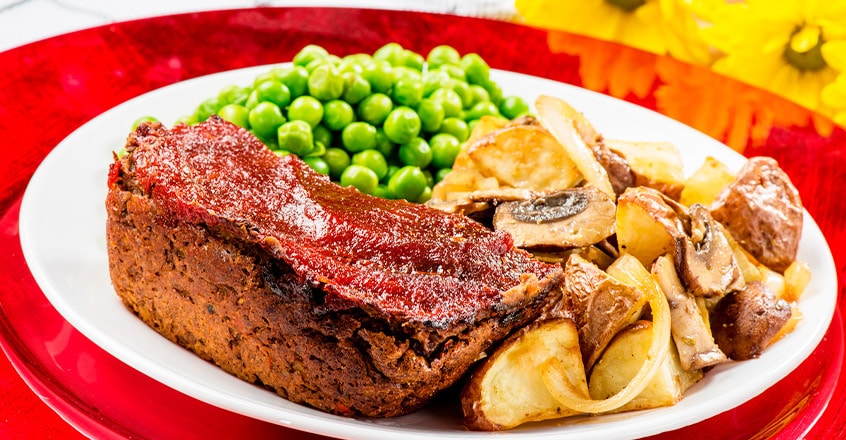 Ingredients
Walnut Mushroom Meatloaf
2 cups chopped cremini mushrooms
3 cloves garlic, minced
1 cup diced red bell pepper
1 ½ tsp dried sage
1 ½ tsp dried rosemary
1 ½ tsp dried thyme
1 tsp chili powder
½ tsp sea salt
1 cup raw unsalted walnuts
1 cup gluten-free whole grain breadcrumbs
½ cup sun-dried tomatoes, julienned
1 onion, diced
1 ½ cups cooked sweet potato
1 can garbanzo beans, drained and rinsed
2 Tbsp nutritional yeast
Zest of 1 lemon
Sauteed sage leaves and cherry tomatoes for topping
Black pepper, to taste
Glaze
¾ cup ketchup
2 Tbsp whole grain mustard
1 Tbsp coconut or Bragg amino acids
4 Tbsp balsamic vinegar
2 ½ Tbsp coconut sugar
1 Tbsp low-sodium tamari
½ Tbsp cumin
1 tsp smoked paprika
1 tsp garlic powder
½ tsp onion powder
⅓ tsp allspice
Instructions
Walnut Mushroom Meatloaf
1. Preheat oven to 350 degrees F.
2. In a heated skillet, sauté mushrooms over medium heat until lightly browned.
3. Add garlic, red pepper, herbs, spices and half of the salt. Cook for 1–2 minutes.
4. Place walnuts in a food processor and blitz into small pieces.
5. Add remaining ingredients to the food processor (except for the sage, cherry tomatoes, and black pepper) and pulse until mixed.
6. Transfer ingredients from the pan to the food processor and pulse until mixed.
7. Add meatloaf mixture to a parchment-lined pan, pressing mixture down with a spatula. Cook for about 45 minutes. While the loaf is in the oven, make the meatloaf glaze.
8. Remove from the oven and allow to cool for 5–10 minutes. Top the loaf with the glaze, and return to the oven to cook for another 15 minutes.
9. Top with sautéed sage leaves and cherry tomatoes. Add black pepper to taste.
Meatloaf Glaze
1. Combine all glaze ingredients in a small saucepan, bring to a slight boil, then lower heat and simmer for 5–10 minutes, stirring until it begins to thicken.
Cooking Tips
1. You can save the drained garbanzo bean liquid (known as aquafaba) to use in another recipe as egg replacer. Store in the refrigerator.
100% online, learn at your own pace
Instructor led format
No prerequisites
Continuing education credits