Lentil Nut Loaf With Sweet Potato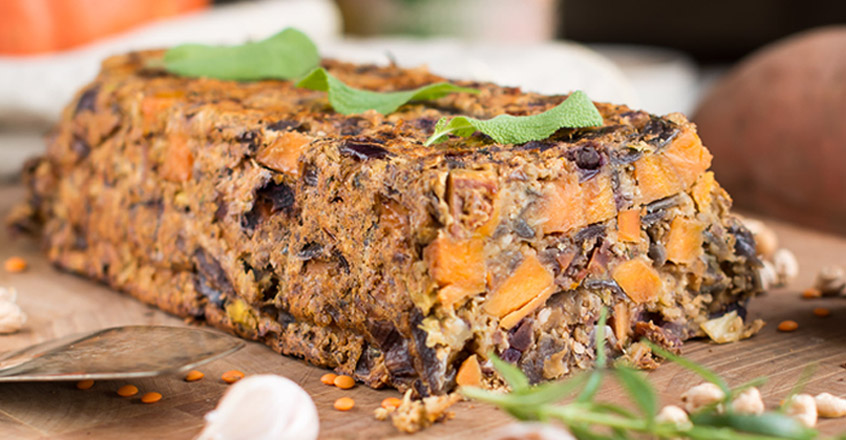 ½ cup (100g) dry red lentils
½ cup (85g) chickpeas, cooked
12 leek slices, about ⅓-inch thick
2 pinches of red pepper flakes
1 tsp smoked paprika powder
Leaves from 3 fresh rosemary stalks, chopped
5 fresh sage leaves, chopped
2 Tbsp ground flax seeds + 4 Tbsp water, mixed
3 tsp sundried tomatoes (powder or chopped)
½ Tbsp buckwheat flour (or flour of your choice)
Black pepper and salt (optional) to taste
CHEESY SAUCE
½ medium size sweet potato peeled and chopped
1 medium size potato peeled and chopped
1 tsp vegetable broth powder
1 Wash the lentils well and boil. Set aside.
2 Process the nuts in food processor into coarse crumbs or chop them with knife. Process the chickpeas in food processor or mash with fork.
3 Mix ground flax seeds with water and set aside.
4 Chop onion, leek, carrot, sweet potato and potato into smaller cubes and throw them into a bowl.
5 Take a large pot, add 2 Tbsp of water (you shouldn't need more) and heat it up. Once the water starts to sizzle, bring down the heat, add chopped veggies and mix for a while. Cover with lid and stir occassionally about 8 to 10 minutes.
6 Peel garlic cloves and crush them through garlic press. Add to pot of veggies and mix well. Next add red pepper flakes, paprika powder, miso paste, chopped sage and rosemary into the pot. Mix well. Cook an additional 8 to 10 minutes.
7 Turn off the heat and cool the veggies a bit by mixing it with a spoon and let the excess water to evaporate.
8 Add into pot: boiled lentils, processed nuts and chickpeas, sundried tomatoes and flax/water mix. Mix well. Taste and season with salt (optional) and black pepper.
9 Finally mix in ½ Tbsp of buckwheat flour. The mixture has to be quite dry – it's still moist, but not liquid.
10 Heat oven to 375 degrees F (190°C). Take a 9 x 3 inch loaf pan and line it with parchment paper.
11 Transfer the loaf mixture into pan and press it down well using spatula to make sure there are no air bubbles.
12 Bake for 50 minutes until it's golden. Remove from oven and let breathe for a couple of minutes. Then, place chopping board over the pan and flip it over. Remove the pan let cool for another couple of minutes before taking off the parchment paper. Let cool before slicing.
CHEESY SAUCE
1 Boil water in kettle for later use.
2 Put all the ingredients except nuts and nutritional yeast in a small pot. Add enough of the boiling water to cover the veggies. Mix well.
3 Simmer for 10 minutes or until the potatoes are soft. Let cool a bit.
4 Add the nuts and nutritional yeast and puree with an immersion blender. Add more boiled water if the sauce is too thick.
Cooking Tips
If you don't have miso paste, substitute it with soy sauce or with salt.
You can substitute different types nuts.
Copyright 2021 Center for Nutrition Studies. All rights reserved.