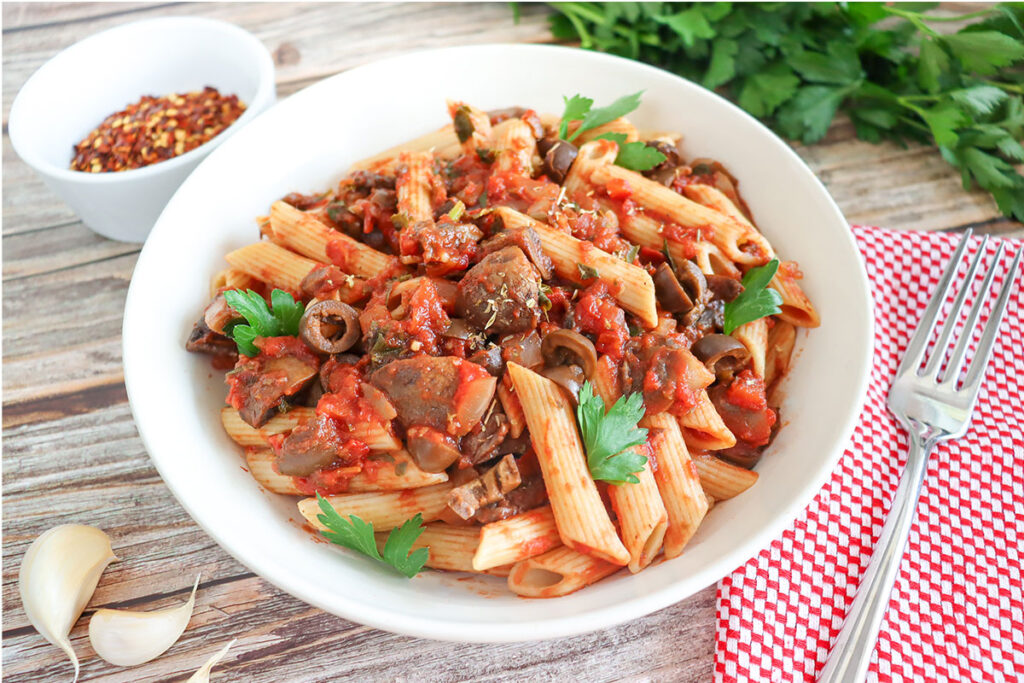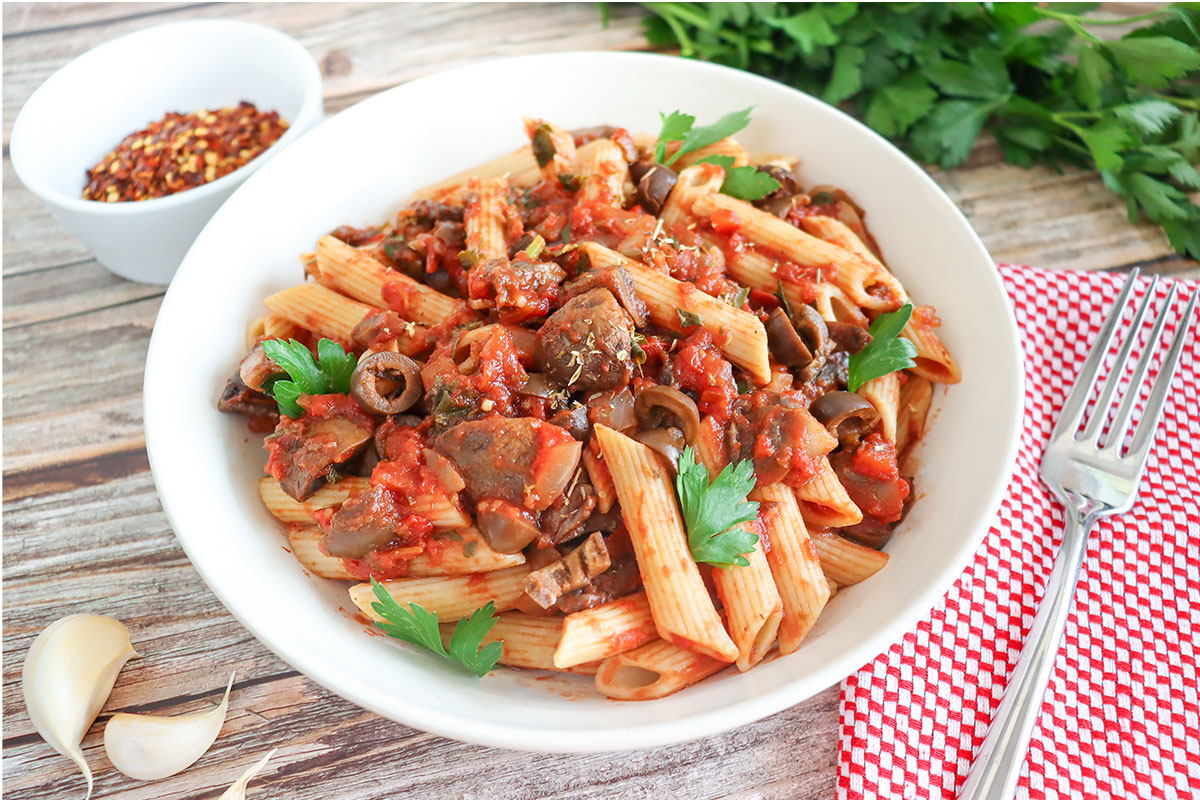 Ingredients
Sauce
½ cup small-diced red bell pepper
½ cup small-diced onion
4 ounces cremini mushrooms, quartered
2 garlic cloves, minced
1 tsp dried oregano
½ tsp salt, plus more to taste
¼ tsp red chili flakes
½ cup red wine (I like cabernet)
1 cup canned crushed tomatoes
½ cup low-sodium vegetable broth
¼ cup black or green olives, halved
¼ cup chopped parsley
1 Tbsp tomato paste
Ground black pepper to taste
Pasta
Salted water for boiling
4 ounces whole grain penne pasta
Instructions
1. Warm a large nonstick pan over medium-low heat. Add the peppers, onions, mushrooms, garlic, oregano, salt, and chili flakes. Cook, stirring occasionally, for 5 minutes until slightly softened. If sticking occurs, reduce heat or splash vegetables with a bit of water.
2. Add the red wine and boil until reduced by half, about 3 minutes. Stir in the tomatoes, broth, olives, parsley, and tomato paste. Add salt and pepper to taste. Cook at a low boil for 7 minutes, or until you reach the desired consistency. Cover and set aside.
3. Bring a medium pot of salted water to a boil over high heat. Cook the pasta according to the package directions. Drain and add the pasta to the sauce and stir until evenly coated. Portion into two bowls and serve.
Cooking Tips
1. You may use non-alcoholic wine or additional vegetable broth in place of the red wine.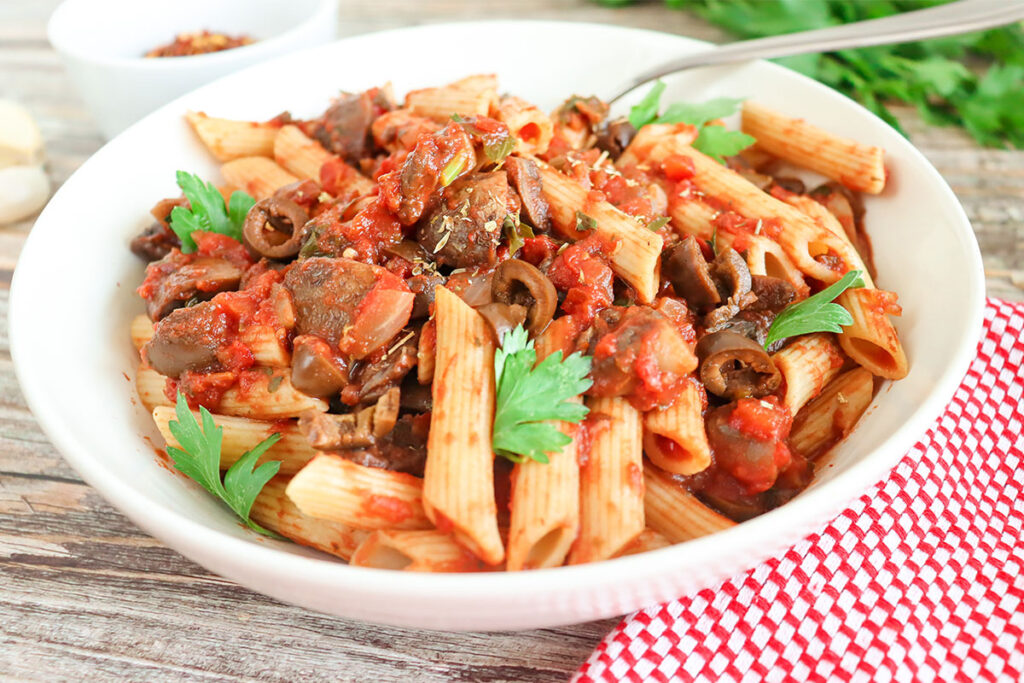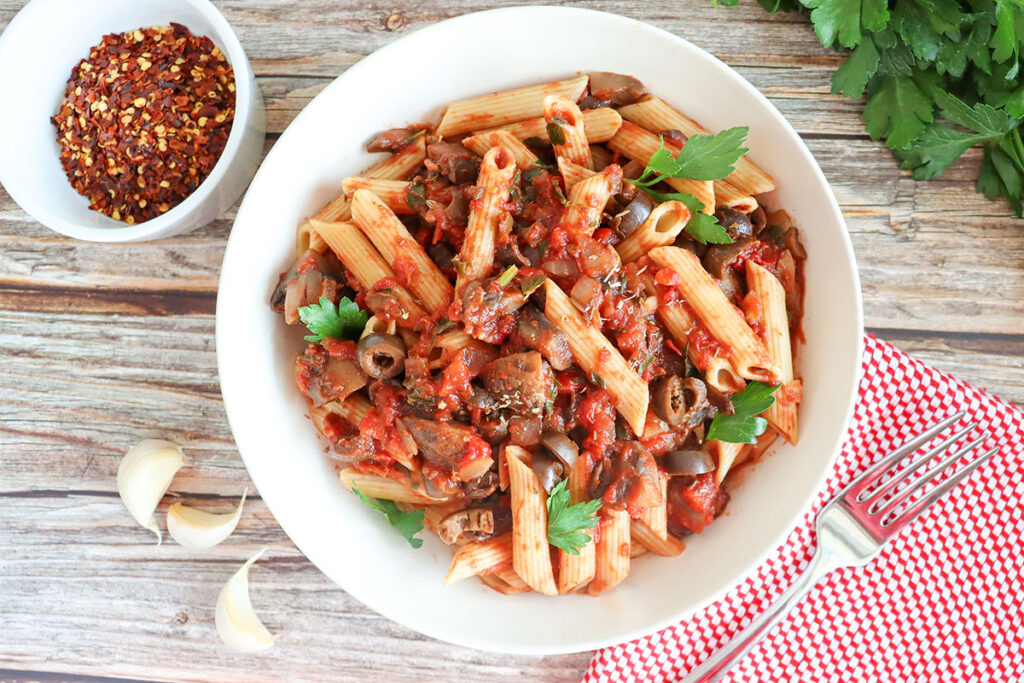 100% online, learn at your own pace
Instructor led format
No prerequisites
Continuing education credits