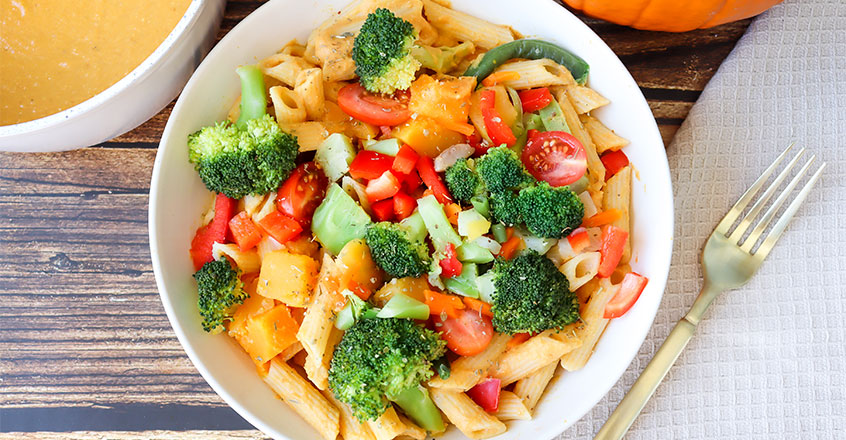 What You'll Need
---
"CHEESY" SAUCE
1 cup unsweetened plant-based milk
¼ cup + 2 Tbsp nutritional yeast
Salt and pepper, to taste
Cayenne pepper, to taste (optional)
PASTA
8 oz of chickpea or whole grain pasta
2 cups sautéed vegetables
How to Make It
---
"CHEESY" SAUCE
1 In a saucepan add the plant-based milk, pumpkin puree and nutritional yeast.
2 Whisk until all ingredients are well combined. Season with salt and pepper.
3 Cook on medium heat for 5 minutes, stirring constantly.
4 Add to pasta immediately.
PASTA
1 Boil pasta according to package directions. Drain.
2 In a saucepan, combine sautéed vegetables and cooked pasta.
3 Add "cheesy" sauce to pasta and vegetables and stir well.
Cooking Tips
You can use pure canned pumpkin or cook it from scratch.
You can substitute the pumpkin puree with sweet potato puree.
Copyright 2022 Center for Nutrition Studies. All rights reserved.