What You'll Need
---
TOMATO-PEPPER BASE INGREDIENTS
1 14 oz. can diced tomatoes
VEGAN 'EGG' INGREDIENTS
½ tsp kala namak salt or sea salt
OTHER INGREDIENTS
Parsley or chives to garnish
How to Make It
---
1 Preheat oven to 400 degrees F.
2 Sauté onion in a bit of vegetable broth until softened and then add all other ingredients for the tomato-pepper base. Season to taste with a bit of chilli powder.
3 Let reduce for 5-7 minutes.
4 In the meantime make the vegan 'egg' by either blending or whisking all the ingredients. Make sure there are no lumps.
5 Pour the vegan 'egg' mixture over the pan with the tomato-pepper sauce.
7 Serve garnished with parsley and/or chives and have some bread with hummus on the side.
Cooking Tips
For the most egg-like flavor use kala namak salt, also known as black salt, which has a sulphuric taste, just like eggs. It is often used in Indian cuisine.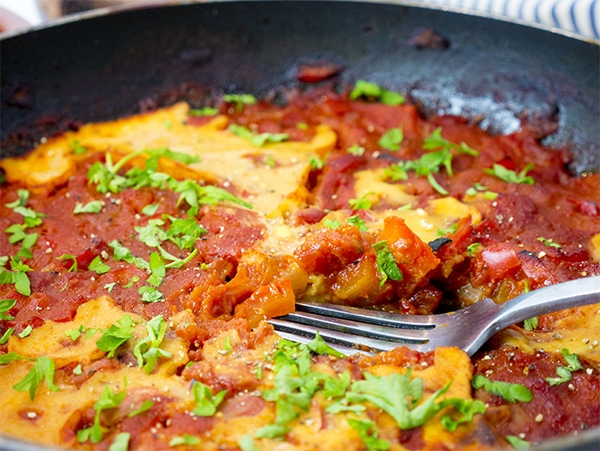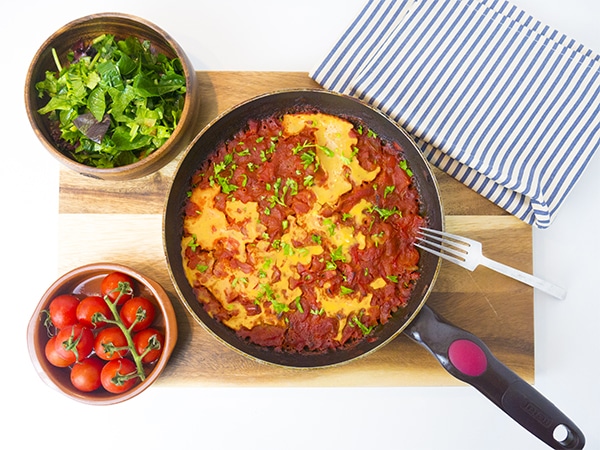 Copyright 2022 Center for Nutrition Studies. All rights reserved.