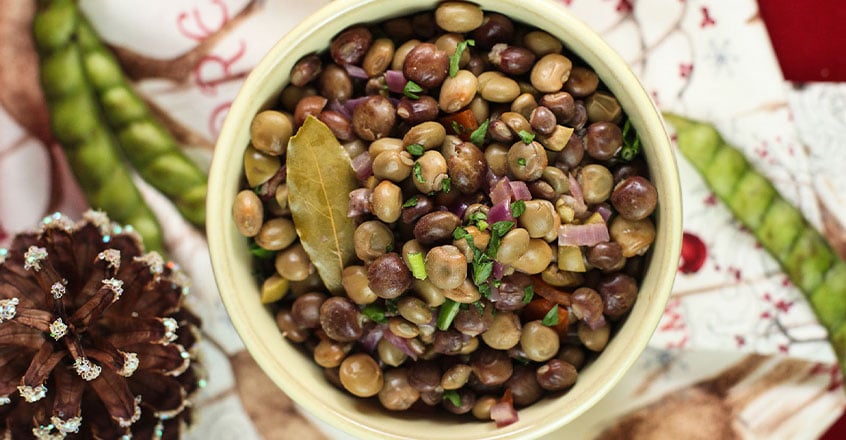 Ingredients
3 cups cooked pigeon peas, drained
½ cup chopped red onion
2 garlic cloves, crushed
½ cup low-sodium vegetable broth
¼ cup green olives, chopped
3–4 sweet peppers, minced
2–3 bay leaves
Ground black pepper to taste
¼ cup apple cider vinegar
Salt to taste
Chives, cilantro, or parsley, finely chopped to taste
Instructions
1. In a heated skillet, sauté onion and garlic with 2–3 tablespoons of vegetable broth, until the onion is translucent.
2. Add olives, sweet peppers, bay leaves, pigeon peas, black pepper, and remaining vegetable broth. Mix everything, and cook for about 10 minutes, stirring occasionally.
3. Add apple cider vinegar and cook for an additional 2–3 minutes.
4. Remove from heat. Add salt and finely chopped aromatic herbs (chives, cilantro, parsley) to taste.
5. Let cool to room temperature, then place in a covered container. Refrigerate overnight.
6. Serve chilled or at room temperature.
Cooking Tips
1. Cook the pigeon peas in a pressure cooker for 10 minutes or boil for 30 minutes.
2. It is important to let the marinade rest to bring out its full flavors.
3. Remove bay leaves before serving.
100% online, learn at your own pace
Instructor led format
No prerequisites
Continuing education credits