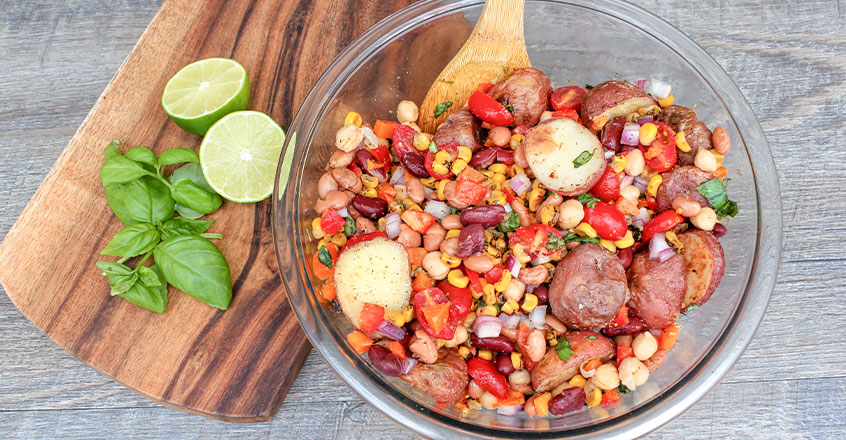 Ingredients
2 ½ pounds small red potatoes, halved
1 cup corn
½ cup red bell pepper, diced
¼ cup red onion, finely chopped
1 cup kidney beans, drained
1 cup pinto beans, drained
1 cup chickpeas, drained
¾ cup grape tomatoes, halved
¼ cup basil, roughly chopped
Zest of 1 lime
Cumin-Lime Dressing
¼ cup white balsamic vinegar
1 Tbsp lime juice (add more to taste)
1 tsp date sugar or date paste
¼ tsp cumin
1 tsp garlic powder
½ tsp chili powder
Instructions
1. Preheat oven to 450 degrees F.
2. Parboil the halved potatoes for 5 minutes.
3. Drain potatoes and season with salt and pepper to taste.
4. Line a baking sheet with parchment paper and spread the seasoned potatoes evenly over the sheet.
5. Bake the potatoes for 25 minutes or until cooked and slightly crisp.
6. In a small bowl, whisk together all dressing ingredients.
7. In a large bowl, combine corn, bell pepper, tomatoes, red onion, kidney beans, pinto beans, and chickpeas.
8. Stir in the dressing and zest of 1 lime.
9. Add potatoes right before serving and stir well.
Cooking Tips
1. For best results: Allow the beans and vegetables to marinate in the cumin-lime dressing for an hour and add potatoes just prior to serving.
2. Use grilled corn.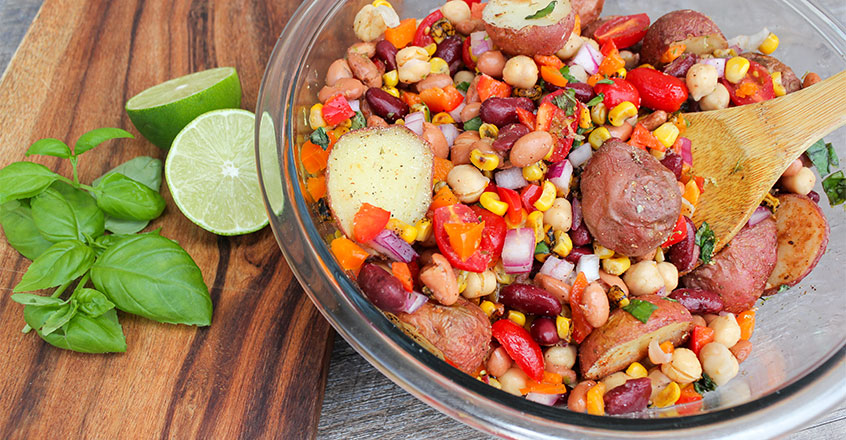 100% online, learn at your own pace
Instructor led format
No prerequisites
Continuing education credits