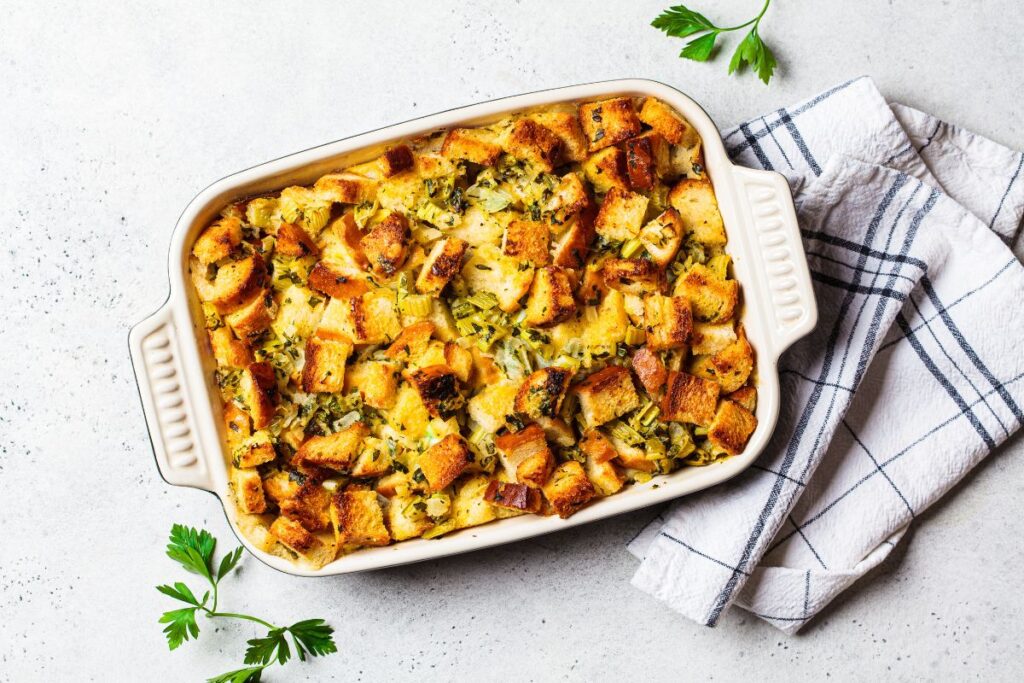 Ingredients
1 recipe cornbread
1 small onion, diced
2 stalks celery, diced
2 cups whole-grain bread crumbs 
1 Tbsp dried sage
1 tsp poultry seasoning
1 tsp dried marjoram
4 cups low-sodium vegetable broth, more or less as needed
Sea salt and black pepper to taste
Instructions
1. Preheat the oven to 275 degrees F.
2. Cube the cornbread into ¾-inch pieces and place it on a baking sheet. Bake for 30 minutes, or until the cornbread is dry.
3. While the cornbread toasts in the oven, heat a large skillet over medium-high heat. Add the onion and celery and sauté for 7–8 minutes until the onions are translucent and start to brown. Add water 1 to 2 tablespoons at a time, as needed, to keep the vegetables from sticking to the pan.
4. Add the whole-grain breadcrumbs, sage, poultry seasoning, marjoram, and vegetable broth. Cook for 2 minutes.
5. Remove the pan from the heat, and set aside.
6. Turn the oven up to 350 degrees F.
7. Add the cornbread to a bowl with the onion mixture, season with salt and pepper, and toss to mix well.
8. Place the mixture into a 9x13-inch baking dish and bake for 30–35 minutes until browned.
100% online, learn at your own pace
Instructor led format
No prerequisites
Continuing education credits