Reprinted from The China Study Family Cookbook (BenBella Books, 2017).
What You'll Need
---
1 ½ cups chopped pitted dates
¾ cup unsweetened applesauce
1 ½ cups dried unsulfured apricots
1 cup water, or more as needed
1 ½ tsp pure vanilla extract (optional)
¼ tsp sea salt (optional)
How to Make It
---
1 Preheat oven to 350 degrees F.
2 Combine the oats, dates, applesauce, vanilla (if using), cinnamon, and sea salt (if using) in a food processor, and process until the mixture forms a cohesive ball.
3 Remove the dough from the processor and press two-thirds of it into the bottom of a nonstick 9-inch square baking pan.
4 Bake for 10 minutes, then set aside to cool for 10 minutes.
5 Meanwhile, combine the apricots, water, and orange zest in a small saucepan, and cook over medium-low heat until most of the water has evaporated and the apricots are tender, about 15 minutes.
6 Transfer the apricots and any remaining water to the food processor and puree until smooth and creamy, about 3 to 4 minutes.
7 Spread the apricot puree over the cooled crust.
8 Crumble the remaining dough over the apricot puree and bake for another 10 minutes. Let cool to room temperature before cutting into 9 bars. Store in an airtight container in the refrigerator for up to 5 days.
Cooking Tips
You can replace the apricots with dates for a different flavor. Add 1 teaspoon ground cinnamon and use 1 teaspoon pure vanilla extract instead of the orange zest.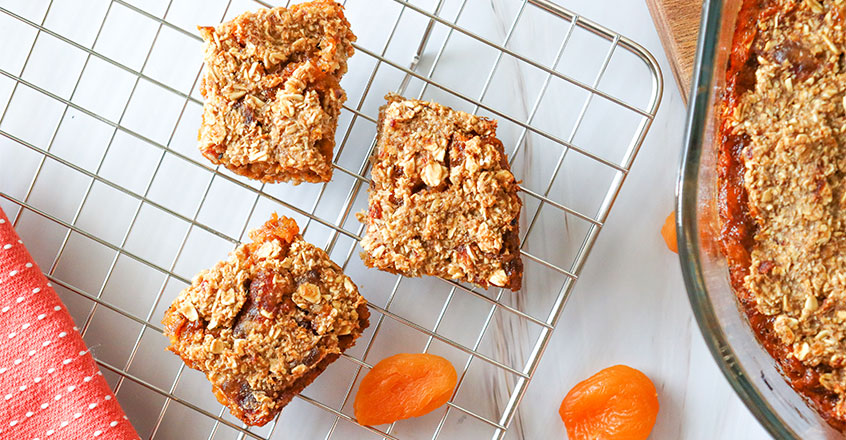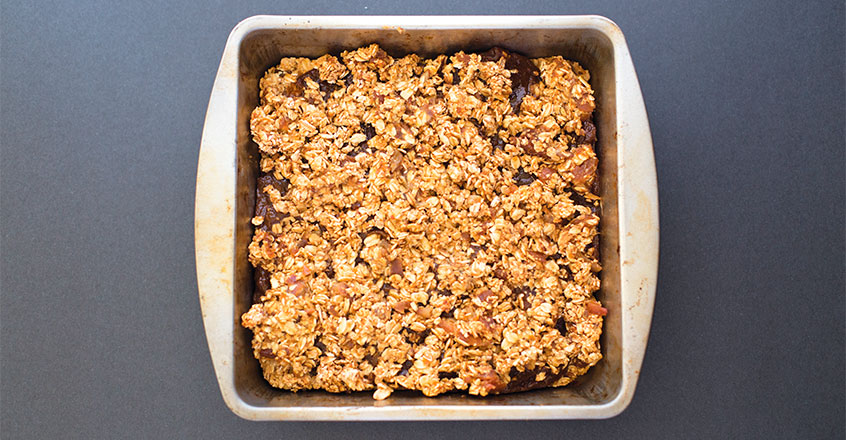 Copyright 2022 Center for Nutrition Studies. All rights reserved.