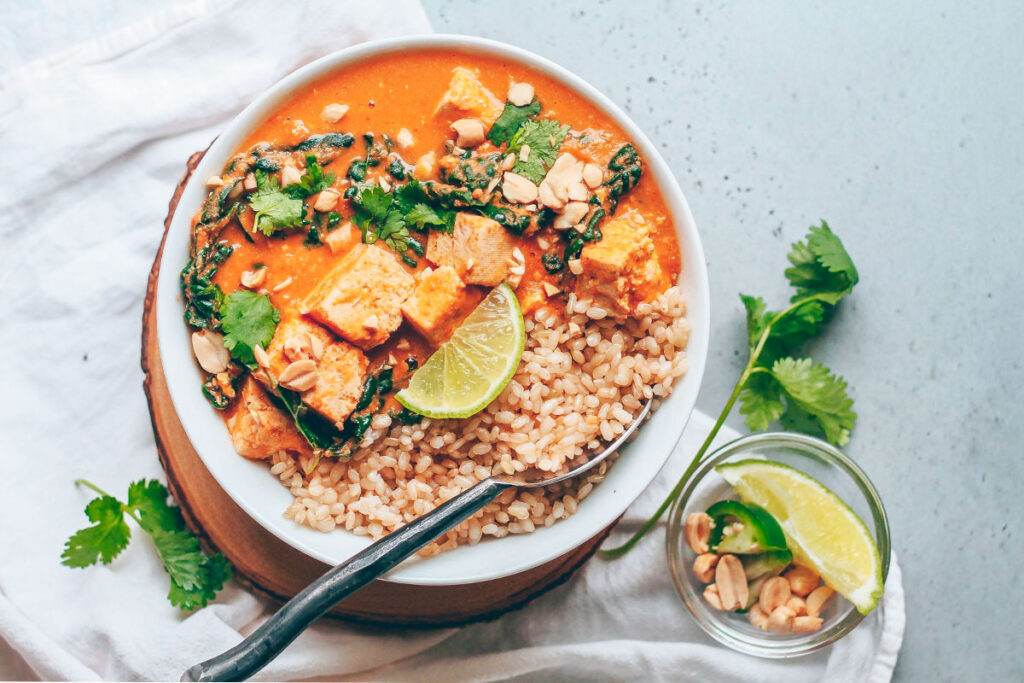 Ingredients
½ white onion, diced
2 garlic cloves, diced
1 inch knob of fresh ginger, minced
3-4 (about 10 oz) plum tomatoes
15 oz tofu, cubed
½ tsp ground paprika
Dash of cayenne pepper (optional)
1 tsp cumin
½ tsp salt
2 cups vegetable broth
⅓ cup peanut butter
1 heaping cup dinosaur kale, chopped
¼ cup cilantro, chopped
¼ cup peanuts, optional
Lime wedges
Instructions
1. Preheat oven to 400 degrees F.
2. Place tofu on a baking sheet lined with parchment paper and bake for 20 minutes or until slightly crisp and golden brown.
3. On another baking sheet lined with parchment paper, place the tomatoes and roast for 12 minutes or until blistered and soft.
4. Add roasted tomatoes to a blender, along with the onion, garlic, ginger, and 1 Tbsp of water. Blend until smooth. Set aside.
5. In a large stockpot, combine tomato mixture, baked tofu, salt, paprika, cumin, and a dash of cayenne pepper. Bring to a boil, then lower the heat and simmer for 8 minutes.
6. Stir in peanut butter and vegetable broth. Season with salt if desired. Simmer for an additional 8 minutes.
7. Stir in kale and simmer until wilted.
8. Serve with brown rice and garnish with peanuts, cilantro, and lime wedges.
100% online, learn at your own pace
Instructor led format
No prerequisites
Continuing education credits