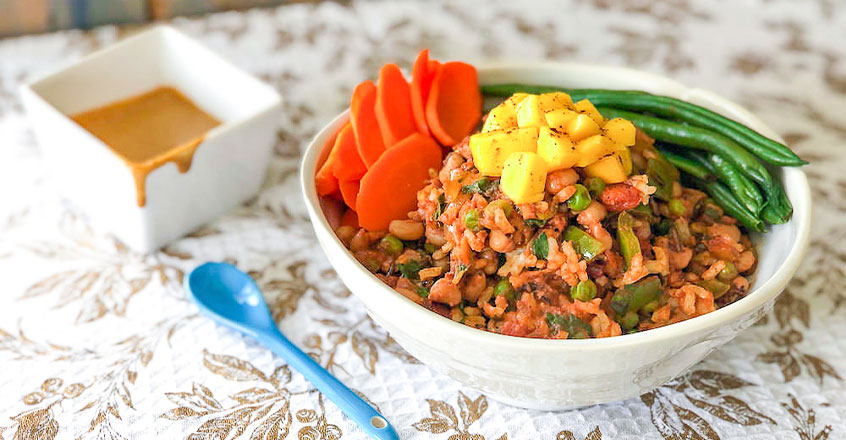 Ingredients
Veggies and Jollof Rice
2 ½ Tbsp tomato paste
½ cup low-sodium vegetable broth, divided
¼ cup white or yellow onion, diced
¼ cup green bell pepper, diced
1 small tomato, diced
⅓ cup green peas
1 cup canned black-eyed peas
¼ tsp ground cumin
¼ tsp chili powder
⅛ tsp curry powder
⅛ tsp ground allspice
¼ tsp turmeric powder
1 pinch ground cinnamon
1 cup store-bought pre-cooked brown rice or wild rice mix
1 cup swiss or rainbow chard, chopped
½ tsp fresh ginger, minced
1 medium carrot, sliced thin on a bias (diagonally)
1 cup green beans, trimmed
½ mango, peeled and diced
Spicy Peanut Sauce
¼ cup peanut butter
1 Tbsp low-sodium soy sauce
1 clove garlic, minced
¼ inch fresh ginger, minced
¼ jalapeno pepper, seeds removed
½ Tbsp Sriracha
Instructions
1. In a steamer basket, add green beans and carrots and steam for 10 minutes or until tender. Set aside.
2. In a medium skillet, add ¼ cup vegetable broth and warm over medium-low heat. Add onions and saute for 3 minutes or until translucent.
3. Add ginger, bell pepper, green peas, and tomato, and saute for an additional 5 minutes or until tender.
4. Add tomato paste and spices, and cook for 1 minute.
5. Add remaining ¼ cup vegetable broth and black-eyed peas, and reduce heat to low.
6. Add swiss chard and cook for an additional 10 to 15 minutes.
7. Add cooked rice and stir to combine well.
8. Remove from heat.
9. To make the peanut sauce, process the peanut butter, soy sauce, garlic, ginger, jalapeno, and Sriracha in a blender for 30 seconds. Add water as needed to achieve a smooth, creamy consistency.
10. In a medium to large bowl, add the peanut sauce to the veggies and jollof rice (one-pot rice dish). Stir to combine well.
11. Divide rice mixture into two bowls, and garnish with steamed green beans, carrot, and diced mango.
Cooking Tips
1. You can substitute tamari for soy sauce for a gluten free option.
2. If avoiding peanuts, you can use another nut butter or sunflower seed butter.
3. For a quick version, use a store-bought peanut sauce free of animal products and added oil.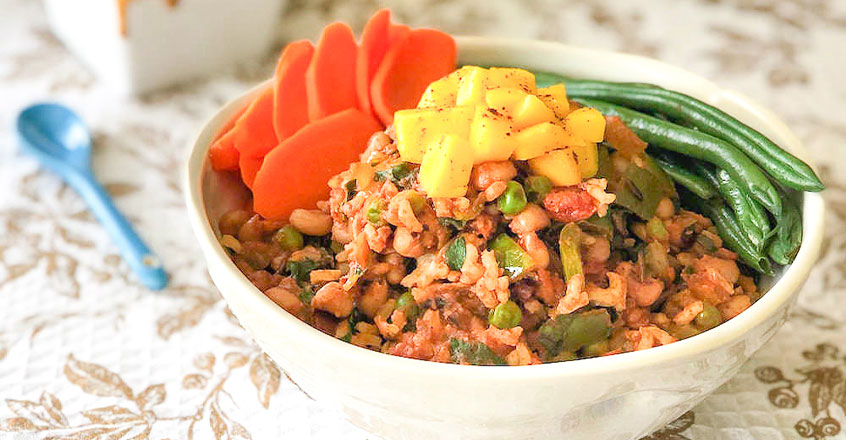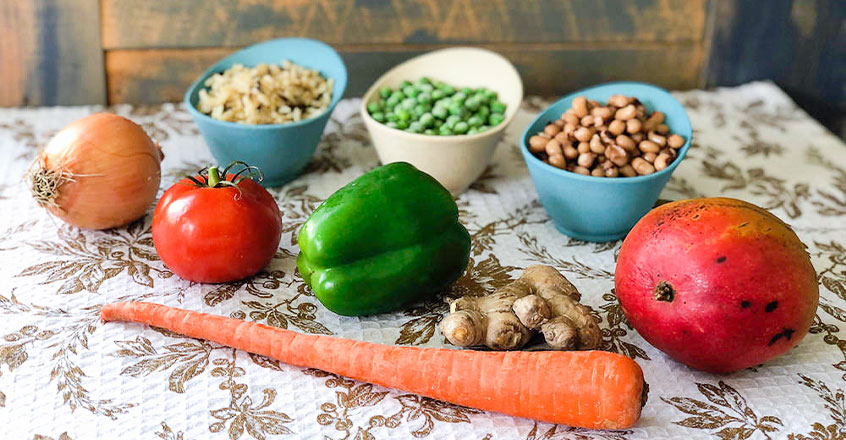 100% online, learn at your own pace
Instructor led format
No prerequisites
Continuing education credits