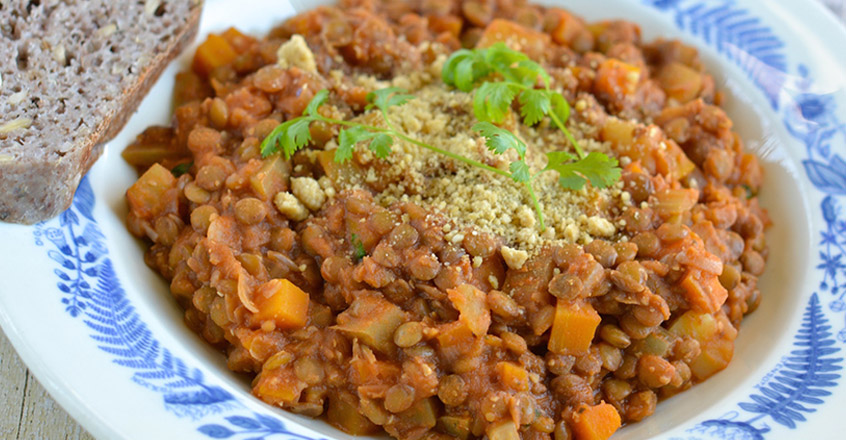 Ingredients
1 cup green lentils, soaked
1 large carrot
1 celery stalk
2 small potatoes
1 tsp garlic powder
2 tsp vegetable broth powder
1 tsp cumin seeds, crushed
2 tsp mustard seeds, crushed
1 Tbsp peanut butter
1 cup tomato puree
Instructions
1. Soak lentils for 6‐8 hours.
2. Put all the ingredients except for the peanut butter and tomato puree into a medium pot. Add enough water to almost cover the ingredients. Bring to boil and simmer covered for 15 minutes.
3. Add the tomato puree and mix well. Bring to a boil and simmer for another 5 minutes. Add extra water if necessary.
4. When the stew is done, mix in the peanut butter. Make sure it's well incorporated.
5. Garnish with greens (onion, parsley, coriander) and nutritional yeast for a cheesy flavor.
Cooking Tips
1. If you don't like the taste of cumin seeds, try caraway seeds.
2. Use any lentils that you have in hand – red, brown, or green. Remember that red lentils cook more quickly.
3. If you do not have time to soak the lentils, add more water while preparing and leave more time for them to cook.
100% online, learn at your own pace
Instructor led format
No prerequisites
Continuing education credits