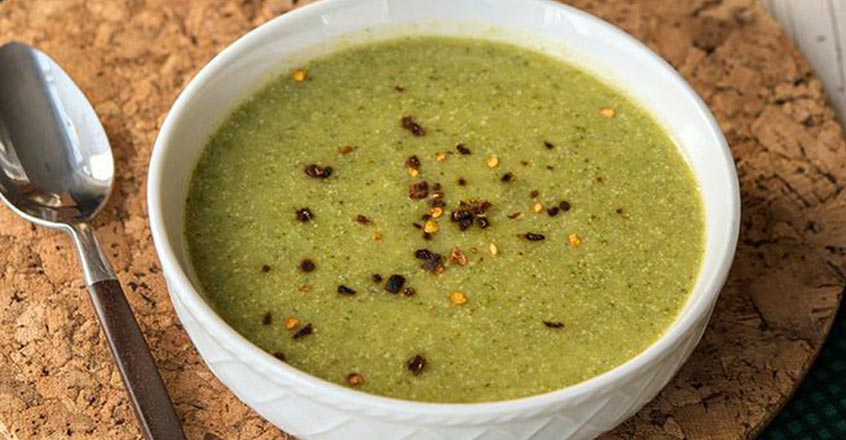 Ingredients
2½ cups broccoli (fresh or frozen), divided
2-3 cups vegetable broth
1 small onion, diced
1 garlic clove, minced
½ cup cooked rice or potato, chopped
1 cup nondairy milk
Basil or thyme (optional)
Nutritional yeast, to taste
Fresh lemon juice (optional)
Red pepper flakes or black pepper for garnish
Instructions
1. If using fresh broccoli, remove the tough lower stalk but chop the other stalky parts.
2. Line a large pot with vegetable broth and sauté onion and garlic until onion is translucent.
3. Add ½ cup broth and cooked rice or potato and let simmer until rice is waterlogged and extra liquid has all or mostly cooked off; if using potato, cook until potato is very soft and tender. (If using a raw (uncooked) potato, this may take longer and require more liquid then if using a leftover already cooked potato, such as a baked potato from the night before.)
4. If using fresh broccoli, add another ½ cup broth and broccoli, and cook until broccoli is very tender. (Note: If you want a soup with broccoli pieces, scoop some out before they're waterlogged and very soft, and set aside to stir in at the end.)
5. If using frozen broccoli, add broccoli at the end as the rice is finishing up (omit extra ½ cup broth—just a splash will do) or cook briefly in microwave and add to soup with no extra broth.
6. Transfer soup to a blender (or use an immersion blender) and purée with nondairy milk, plus additional broth as necessary to achieve a soup consistency. You can also add fresh or dried basil and thyme, plus salt and pepper to taste here.
7. Return blended soup to your saucepan and let simmer, adding nutritional yeast to taste.
8. Squeeze fresh lemon juice over soup before serving, if desired, and garnish with red pepper flakes or fresh black pepper.
100% online, learn at your own pace
Instructor led format
No prerequisites
Continuing education credits