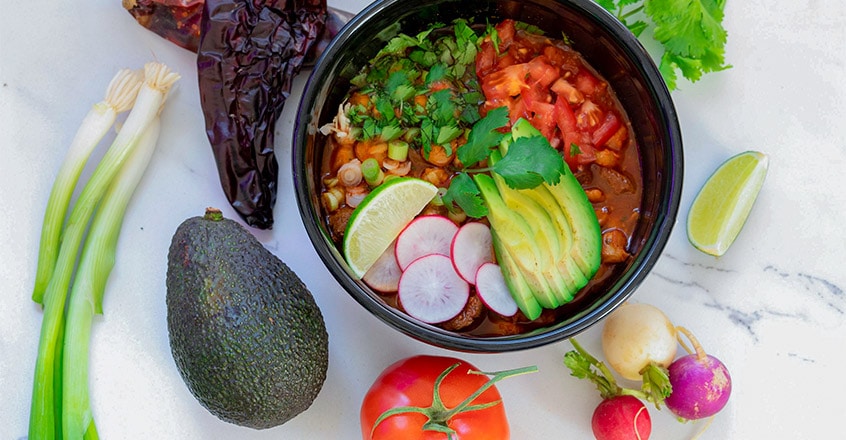 Ingredients
POZOLE
½ red onion, finely diced
3 garlic cloves, crushed
1 cup of guajillo sauce (see recipe)
3 cups of oyster mushrooms, diced
1 cup hominy, cooked
5 cups of water
½ bunch cilantro, chopped
4 radishes, grated
Sea salt to taste
GUAJILLO SAUCE
4 cups water
10 guajillo chilies
10 large garlic cloves
1 tsp sea salt
TO SERVE
4 radishes, grated
½ bunch cilantro, chopped
¼ red onion, finely diced
lettuce or shredded cabbage
Lemon wedges
Dried oregano, to taste
Instructions
GUAJILLO SAUCE
1. Slice the chiles, remove the seeds, and rinse thoroughly.
2. In a saucepan, cover the chiles with 3 cups of water and boil for 10 minutes or until soft. Drain.
3. In a food processor or blender, process the chiles with the garlic cloves and a cup of water.
POZOLE
1. In a large pot over medium heat, sauté the garlic and red onion with a little bit of water until they become translucent.
2. Add the mushrooms and sauté lightly for 5 minutes.
3. Add the guajillo sauce and water.
4. Add the previously cooked hominy and season to taste with salt.
5. Bring to a boil and cook over medium heat for 5 minutes.
6. Serve with cilantro, radishes, red onion, lettuce or shredded cabbage, lemon, and dried oregano.
Cooking Tips
1. Use other mushrooms or a mixture of several.
100% online, learn at your own pace
Instructor led format
No prerequisites
Continuing education credits