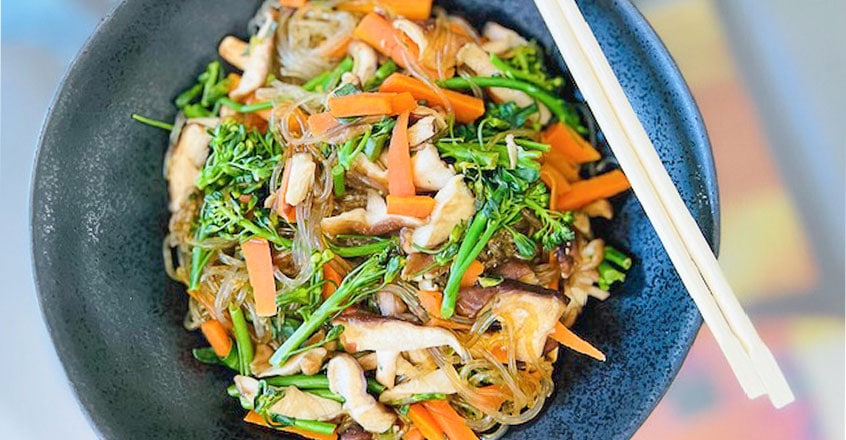 The miso paste in the sauce adds that delicious umami savoriness that you probably associate with a lot of Asian cuisine.
What You'll Need
---
1 (7-ounce) package sweet potato noodles
2 Tbsp low-sodium vegetable broth
1 small yellow onion, minced
4 stalks broccolini, chopped
1 medium carrot, cut into matchsticks
8 shiitake mushrooms, sliced
2 Tbsp sesame seeds (optional)
SAUCE
6 Tbsp low-sodium tamari or soy sauce
2 Tbsp white mellow miso paste
How to Make It
---
1 Add the sweet potato noodles to a pot of boiling water and cook for 6 minutes.
2 Drain and rinse the noodles with cold water to stop the cooking process.
3 In a sauté pan, add the broth and onions and cook until translucent, about 3 minutes.
4 Add the garlic, broccolini, carrots and mushrooms and cook for about 5 minutes.
5 To make the sauce, add all the ingredients to a bowl and whisk until everything is well combined.
6 Add the noodles to the sauté pan and then the sauce.
7 Toss and cook until all the veggies, noodles, and mushrooms are well coated in the sauce.
8 Serve and garnish with toasted sesame seeds (if using).
Copyright 2022 Center for Nutrition Studies. All rights reserved.