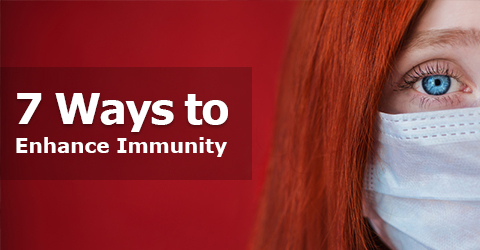 Most respiratory tract infections (RTIs), including the common cold and flu (influenza) are caused by viruses. There are around 200 or more types and sub-types of virus that contribute. Further, viral DNA changes frequently. This makes preventing and treating RTIs quite difficult and helps explain why we tend to get many RTIs throughout our lives. Although we tend to think of a few days off work/school with a warm blanket, RTIs can be very serious, especially in those with a weakened immune system such as the elderly or those with certain medical conditions.
There is some evidence that low-fat, high-carbohydrate
diets enhance the immune system.
RTIs are usually spread through contact with others who are infected, for example from exposure to coughs, sneezes, and even breath. With this in mind, RTIs spread rapidly when people are in confined spaces: think of schools, large office blocks, public transportation, etc. Contaminated surfaces such as hands are major sources of transmission. For example, a person touching their nose, and then shaking your hand or touching a surface that you then touch with your own hand.
Therefore, one of the most important aspects to preventing RTIs is ensuring good hygiene practices, particularly regular hand washing. Of course, we don't all wash our hands repeatedly everyday. Even if we practice good personal hygiene, it is unlikely that every individual we come into close proximity with does! This makes it almost impossible to avoid germs from others. Fortunately, there are other things that can influence our immune system—including a healthy diet—all of which can decrease RTI risk even when germs are all around us.
7 Factors Associated With Decreased Immune Function
Poor sleep – In one study of over 22,000 Americans, a short sleep duration was associated with increased RTI risk of up to 82%.[3] In another study, healthy volunteers were exposed to 'nasal drops containing a rhinovirus' (in other words mucous infected with the cold virus). Those who regularly sleep less than 7 hours per night were 200% more likely to develop a cold than those with 8 hours of sleep or more.[4]
Intense exercise
Obesity increases both the risk and severity of RTI. Being overweight is associated with decreased immune response to influenza viru [5] and decreased response to flu vaccines.[6]
Smoking
Psychological stress has been shown to weaken the system.[9] Further, high levels of stress have been associated with decreased response to flu vaccination[10] and increased risk of RTI.[11] On the other hand, there is some evidence that stress-management is associated with increased response to flu vaccination.[12]
7 Factors Associated With Superior Immune Function
Low-fat, high-carb diets – There is some evidence that high fat diets are associated with decrease immune responses[7][8] while low-fat, high-carbohydrate diets enhance the immune system.[13]
Vitamin D was traditionally thought to be only important for bone health. However, recent evidence suggests that vitamin D has many important roles in the immune system. In fact, vitamin D seems to have important roles in every type of immune cell. A large review published in the prestigious journal British Medical Journal reported on all studies which used vitamin D supplements to prevent RTI. This impressive review included 25 studies of over 11,000 individuals. Vitamin D supplementation decreased RTI by 12%[16]. For more detailed information regarding vitamin D and how to get enough, see my article on vitamin D facts.
Minerals and trace elements (e.g. zinc, iron and selenium). Zinc is found in whole grains (particularly wheat-germ and wheat-bran) as well as various seeds and nuts, celery, mustard and legumes. Iron is found in legumes, tofu, green leafy and vegetables. Selenium can be found in whole-grains and mushrooms, but the greatest quantities are found in nuts, particularly Brazil nuts. It can be more difficult to absorb zinc and iron from a whole food, plant-based (WFPB) diet, and therefore it is important to ensure an adequate intake of the foods listed above. Further, try to combine these foods with sources of vitamin C and/or acid to increase absorption. For example, legumes with bell pepper or seeds with an orange.
Phytonutrients. "Phyto" means plant, so phytonutrients are non-essential but highly beneficial nutrients found only in plant foods. There is evidence that phytonutrients have antiviral properties and can help decrease RTI risk.[17]
Fiber – In the past, dietary fiber was thought to be indigestible and only beneficial in promoting gut health. We now know that fiber can be at least partially digested by bacteria living in our guts. When we eat foods containing fiber, these bacteria digest the fiber, and they produce by-products (e.g. short chain fatty acids) that are known to have beneficial effects on the immune system. Similar to phytonutrients, fiber is only found in whole plant foods such as fruit, vegetables, legumes, and whole grains.
Moderate and regular exercise are important for overall health, including the immune system. For example, moderate exercise significantly improved antibody response to influenza vaccine.[18-20] However, be careful not to overdo it. Too much exercise can actually have the opposite effect.
Nutrition and Immune Function
There is limited evidence regarding nutrition and RTIs specifically, but some of the available evidence is very interesting.
A study from the late 1980s reported that the total number of white blood cells did not differ between meat eaters and those following a plant-based diet. However, one very important type of immune cell (called natural killer cells) were more active in the plant-based group. This suggests increased protection against not only RTI, but also cancer[21]. In fact, an earlier study from Australia reported that RTIs were lower in those eating a plant-based diet compared to meat eaters at every age group. Interestingly, RTI rates were higher in vegetarians than in those eating a high fruit and vegetable diet.[22] This study suggests that eating a plant-based diet can be beneficial, but actually consuming fruits and vegetables as opposed to other plant-based foods may be optimal.
A 2010 study including over 1,000 pregnant women in Boston reported
that those eating the most fruit and vegetables
had 39% reduced RTI risk.
An interesting German study was published in the British Journal of Nutrition in 1999. The researchers recruited non-smoking, adult men and asked them not to eat many fruits or vegetables for two weeks. These men were then asked to consume tomato juice every day for 2 weeks, then carrot juice daily for another two weeks and finally dried spinach daily for 2 weeks. Immune function was decreased during the first two weeks of the study (i.e. low fruit & vegetable). The other treatments, particularly tomato juice increased function significantly.[23]
At-Risk Populations
Certain sections of the population are at greater risk of severe RTI including infants, those with immune conditions, and the elderly. A fascinating study was completed by researchers in Northern Ireland and published in the nutrition journal, American Journal of Clinical Nutrition. This study included a group of adults aged 65 years and older who had a low intake of fruit and vegetables (2 servings per day). These subjects were randomised to continue their normal diet or increase fruit and vegetable intake to 5 servings per day. After 12 weeks, vaccinations were administered. The antibody response in the 5 servings group was significantly higher than in the 2 servings group, indicating greater immune response in those eating more fruits and vegetables.[24]
Fruits and vegetables even seem to decrease infection risk in pregnancy. A 2010 study including over 1,000 pregnant women in Boston reported that those eating the most fruit and vegetables had 39% reduced RTI risk.[25]
Nutrition and Influenza
A large 2010 US study reported that a 5% increase in obesity or physical inactivity would lead to a 6% to 7% increase in flu hospitalizations. However, low fruit and veg intake would lead to an 8% increase in flu hospitalizations.[26]
So maybe an apple a day does keep the doctor away…well, a study published in the New York State Dental Journal reported that asking subjects to eat a single apple per day decreased RTIs by 16%![27]
4 Key Takeaways
A healthy immune system minimizes RTI risk and helps you recover quicker.
A WFPB diet will contain high levels of nutrients important for the immune system while decreasing undesirable nutrients.
Non-dietary practices are vitally important for the immune system (e.g. good sleep practices).
Combining these strategies will help achieve and maintain a healthy immune system. In turn, this will reduce RTI risk.
References