The following is an article from a Community Grant recipient.
We are grassroots leaders empowering people to overcome chronic disease with food as medicine. Our organization, Plant Powered Metro New York, was launched in 2019 to inspire and educate local communities in and around New York City with evidence-based whole food, plant-based nutrition.
As the Network Director (Lianna) and a Latinx Community Organizer (Aifra), we have very different personal backgrounds. Lianna has Jewish roots and grew up in a small Pennsylvania town, while Aifra is an Afro-Latina hailing from the Dominican Republic. But we are both mothers raising our young children with a plant-based lifestyle; our sons were in the same Manhattan preschool class. We first connected at the playground, where we discovered that we share a common goal: to heal our respective communities with whole plant foods.
Before founding Plant Powered Metro New York, Lianna led a local group promoting plant-based nutrition in PlantPure Communities' (PPC) global "pod" network, building a movement for change in Manhattan. One of the highlights of that work was in 2018, when the Chief Medical Officer of SOMOS Community Care, Dr. Diego Ponieman, approached PPC and the Manhattan pod about creating a 10-day whole food, plant-based (WFPB) jumpstart program for Latinx community members in Harlem. The team used PPC's Oasis Jumpstart model to design the project and got to work, recruiting 40 participants, gathering biometrics data, educating the group on plant-based nutrition, providing prepared meals, and offering Spanish-speaking mentors for extra one-on-one support. It was an exhilarating experience that made a real difference in the community's health, getting back to the plant roots of Latinx cuisine.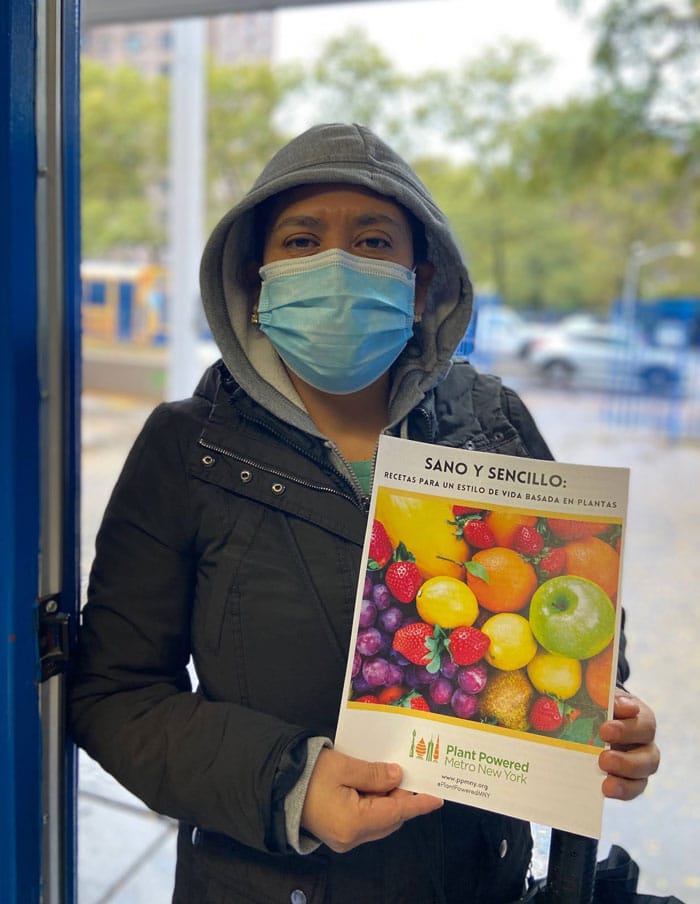 Meanwhile, Aifra wanted to be a health coach focused on introducing Spanish speakers to food-as-medicine. Shortly after the jumpstart ended, we connected and Aifra joined the team as a volunteer organizer. At this point, the pod was on the cusp of working more closely with a few other local pods to build a metro-wide organization dedicated to growing WFPB nutrition awareness and empowerment together. That became Plant Powered Metro New York.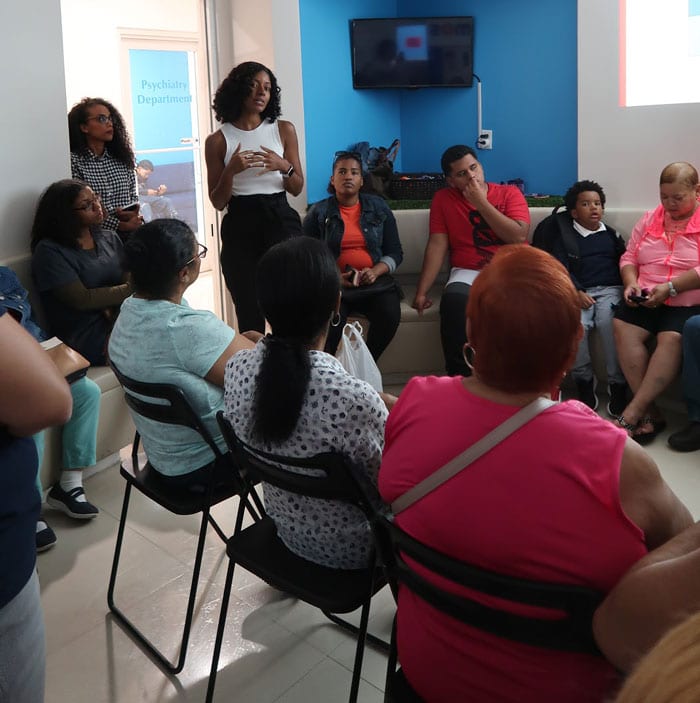 Getting Aifra on board was a first step toward building a talented grassroots leadership base that represents the diversity of our city and region. With her leadership, we have partnered with SOMOS Community Care on eight more 10-day jumpstarts that have empowered more than 150 people to take control of their health by adopting WFPB nutrition. We've grown our team to include five more Latina organizers, as well as a number of other Spanish-speaking volunteers and health coaches. Their work has been covered by local media—this article features the story of one of our jumpstart participants, Ana Rodriguez, who experienced rapid improvements to her diabetes symptoms, including impaired eyesight.
What we've seen repeatedly in our jumpstarts is that stories like Ana's are not aberrations. Many of our other jumpstart participants have experienced improvements to biomarkers not only for diabetes but also hypertension, cholesterol, and weight; as well as personal reports of improved energy, mood, and other quality-of-life indicators. These successes motivate us to keep rolling out this message to our neighbors, friends, and colleagues.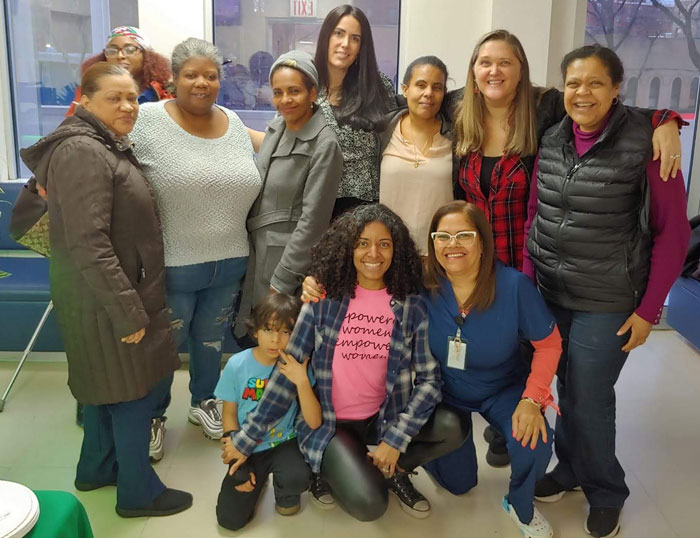 Another participant, Humberto, reported that he lost 4.5 pounds in 7 days, had more restful sleep and better digestive function, and that his osteoarthritic pain decreased substantially, reducing his dependence on pain medications.
Twenty-something Daysi shared with us:
"During the 10 days, I was able to lose 6 pounds. I dropped four sizes in the waist and two in my hips. I also noticed how my skin changed significantly. I felt much more energetic, lighter, and much healthier… I learned how to read the nutrition labels every time I go to the supermarket. I no longer choose product x because it is the one I know or have been using all my life. I read the labels. I see what ingredients have been added…. Eating plant-based is as important as sleeping well and exercising."
Heart disease, obesity, diabetes, and chronic liver disease are all too prevalent, and yet they are lifestyle-related diseases which can be swiftly treated and even healed with wholesome plant-based nutrition.

Laura, who later joined our team as an organizer, said:
"The Plant Powered Metro New York program helped me first to increase my energy levels, to learn to listen to my body in how it reacts to different foods, to think more clearly, to be able to move better, to reduce my weight, my cholesterol, my spending, to be more economical in my purchases, and a number of other benefits."
These victories are more relevant than ever before. COVID-19 has demonstrated ongoing health disparities in the Latinx community; for instance, of all racial or ethnic demographic groups, the number of coronavirus cases was highest among the Latinx population, and they are at higher risk for many of the underlying conditions that exacerbate the virus's impact. Heart disease, obesity, diabetes, and chronic liver disease are all too prevalent in these communities, and yet they can be swiftly treated and even healed by wholesome plant-based nutrition.
Plant Powered Metro New York's grassroots network is committed to providing the education and tools that people need to take their health into their own hands, no matter the challenges posed by predatory food industries and an inequitable food system that subsidizes meat, dairy, and processed foods. With the support of a CNS Community Grant, we plan to run an expanded jumpstart program later this spring that will provide culturally-relevant education, materials, and food support for at least two dozen Latinx families in the West Bronx and Northern Manhattan, drawing from school communities and health clinics in neighborhoods along the Harlem River.
With each jumpstart, we not only demonstrate the power of nutrition but also raise new champions for the WFPB lifestyle—champions capable of securing better food choices and healthier menu options within their local organizations. By building capacity within the Latinx community to experience firsthand and then stand up for food-as-medicine, we help them stem the tide of chronic disease, the trauma and heartache of illness, lost productivity, and early death. In place of these struggles are greater resilience, hope, and prosperity.
Lianna Levine Reisner and Aifra Castillo Ruiz will speak on behalf of We Empower ACEs at CNS's annual Plant Forward Learning Program, Virtual Conference & Workshop Series in 2021.
Register to attend the event and hear about their work.
The T. Colin Campbell Center for Nutrition Studies (CNS) is committed to increasing awareness of the extraordinary impact that food has on the health of our bodies, our communities, and our planet. In support of this commitment, CNS has created a Community Grant initiative to empower sustainable food-based initiatives around the world by providing grants to enable innovative start-ups and to propel the growth of existing initiatives. Please consider making a donation to this great cause. 100% of your donation will go to support initiatives like the one you just read about in this article.
Copyright 2023 Center for Nutrition Studies. All rights reserved.