500 children and their families sat down to experience a delicious and healthy whole food, plant-based meal thanks to this new program.
In early September, WFPB.ORG held their first WFPB (whole food, plant-based, salt-free, oil-free, and sugar-free) Community Kitchen program in 4 rural boroughs in Colombia. Led by WFPB.ORG's Culinary Medicine Director in Colombia, Naked Food Chef Niyireth Gil designed a delicious menu for 500 children and their families.
The WFPB Gourmet Menu
Appetizer
Green salad with peppermint and passion fruit dressing
Entree
Mexican rice with corn and coriander
Bean stew with turmeric
Nutty mashed potatoes
Sautéed vegetables
Dessert
Melon and coconut cream flan
Drink
Virgin Sangria (Fruit Punch)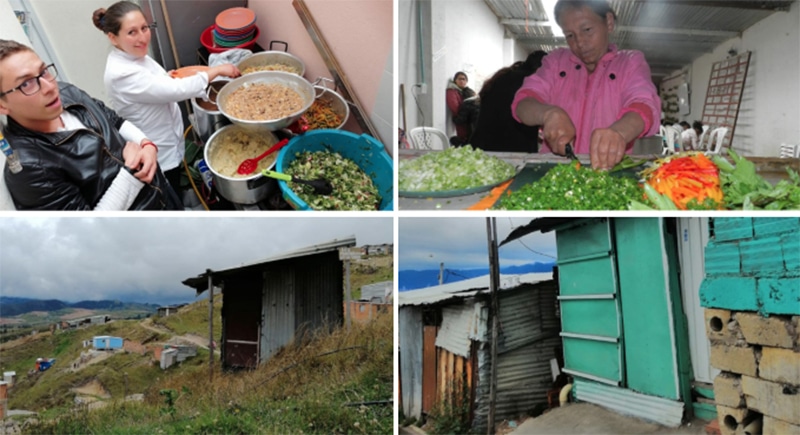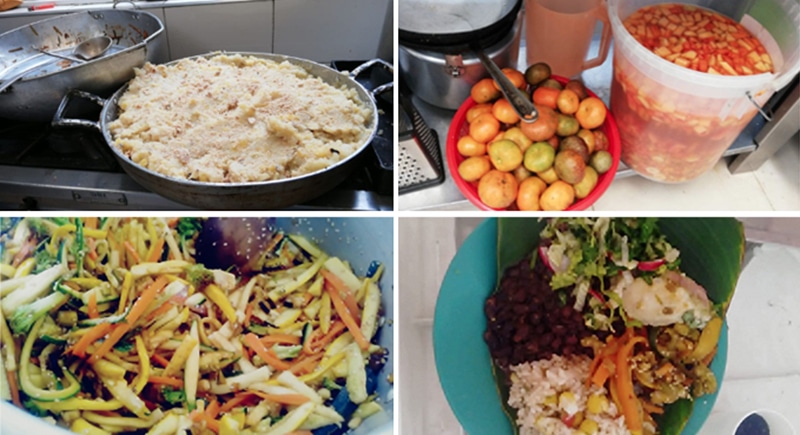 Through this event, we:
Empowered 500 children and 250 families with life-saving knowledge of whole food, plant-based nutrition.
Educated the community about the health, economic, and environmental benefits of a sustainable and conscious plant-based lifestyle.
Gathered vegetable, fruit, and herb seeds from the meal ingredients to plant community vegetable gardens.
Saved 550,000 gallons of water, 1,500 square feet of forest, 20,000 lbs. of grain, 500 animal lives, and 10,000 lbs. of CO2.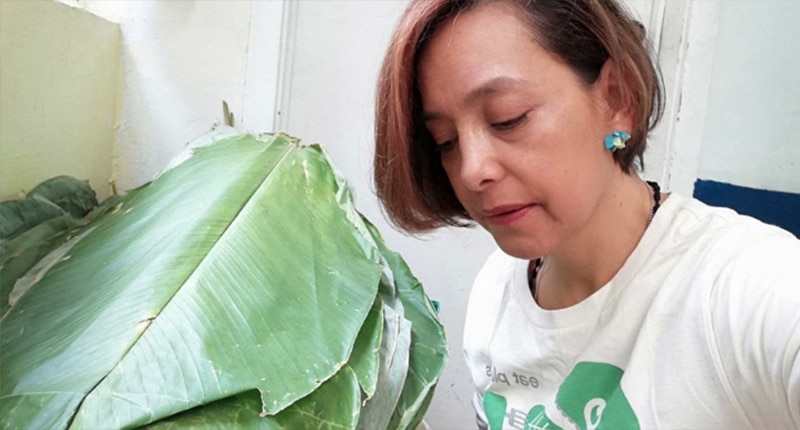 Dr. Diana Esguerra, WFPB.ORG's Reversive Medicine Director in Colombia prepares plantain leaves to use as compostable, ecological, and plant-based plates for 500 meals.
Let's Do It Again!
Can you help us bring the WFPB Community Kitchens
to every community in the world?
Help us reach the $5000 challenge by October 31st
About WFPB.ORG's Community Kitchen Program
Our program focuses on children and impoverished families, the homeless, immigrants, and other vulnerable individuals. Our objective is to provide healthful nutrition for the most deprived and vulnerable populations and educate them about a healthful, basic, practical and economical diet as the best for prevention and reversal of chronic degenerative diseases such as cancer, cardiovascular disease, obesity, dementia, and diabetes among others.
Objectives:
Establish WFPB (whole food, plant-based, sugar-free, oil-free and salt-free) nutrition as the ideal and optimal pattern for sustainable human and planetary health.
Establish a WFPB (whole food, plant-based, sugar-free, oil-free and salt-free) lifestyle as the most practical and cost-effective for humans.
Create sustainable vegetable gardens with an organic or permaculture cultivation of plant foods as an optimal local food resource for every community.
We teach the cultivation of plant foods for the creation of communal organic gardens grown on the basics of regenerative agriculture for the benefit of the local population.
We also educate communities about waste and its effects on the toxicity of the global environment, and the damaging effects of animal agriculture and animal foods in human and planetary health, planetary degeneration, including global warming, demineralization of soils, and the production of greenhouse gases.
About WFPB.ORG
WFPB.ORG is an independent, nonpartisan, 501(c)3 non-profit organization that empowers sustainable health for humans and planet through a plant-based lifestyle.
Copyright 2023 Center for Nutrition Studies. All rights reserved.