The Plant-Based Nutrition Certificate program from the Center for Nutrition Studies (CNS) and eCornell can enhance your personal and professional life. For many years, over 20,000 students worldwide have been putting the expert knowledge they gained from this certificate program to good use, improving their personal health, advancing their careers, and serving their communities.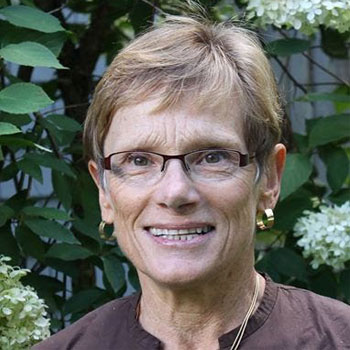 Susan Lebel Young, MSEd, MSC—Educator and Psychotherapist
Teaching a combination of a plant-based diet, yoga, mindfulness, and compassionate heartfulness.
Susan Lebel Young is a retired psychotherapist with two master's degrees. She completed her Plant-Based Nutrition Certificate in 2010. "Through Plant-Based Nutrition courses through eCornell," she says, "I experienced what true nourishment can mean." She refers to herself as "a student of life," and the classes she teaches combine a plant-based diet, yoga, mindfulness, and compassionate heartfulness. She is the author of Food Fix: Ancient Nourishment for Modern Hungers, and she writes for the "Reflections" column in the Portland Press Herald.
"My writing helps those of us who are tired of being tired, sick of feeling sick, and want a gentler way to live," she says. The Plant-Based Nutrition Certificate added to Susan's understanding of the mechanisms and science of diet and health. Read more about Susan's work.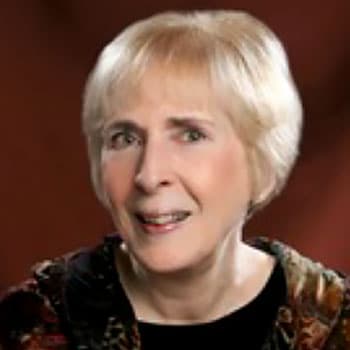 Constance Coquillette, LCSW—Integrative Health Coach
"There is nothing more rewarding than seeing patients feel better."
Constance Coquillette is a licensed clinical social worker (LCSW) and an integrative health coach. For over 30 years, she has been helping individuals, families, couples, and children make positive changes in their lives. She studied nutrition for 15 years, completing her Plant-Based Nutrition Certificate in 2012, and established Health Matters Northwest LLC in Portland, Oregon with two partners in 2013.
"It has been so helpful to have Dr. Campbell's evidence-based research to share with patients. I have been able to use my license as a social worker to bill insurance providers, since I do counseling around behavioral change. In my practice, we are all living a plant-based lifestyle and are models for the patients in our own great health outcomes. There is nothing more rewarding than seeing patients implement changes and feel better as their health improves." She has used motivational interviewing techniques to help patients take steps toward a plant-based diet and away from the standard American diet.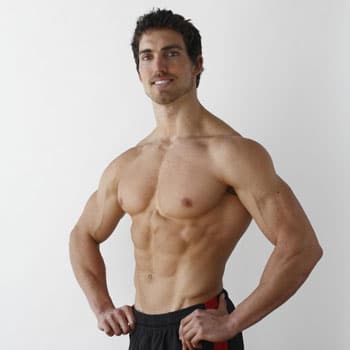 Derek Tresize—Certified Personal Trainer (CPT)
Weightlifter and outspoken advocate for a whole food, plant-based diet.
Derek Tresize is a certified personal trainer through the American Council on Exercise (ACE) and a World Natural Bodybuilding Federation (WNBF) professional bodybuilder. He holds a bachelor's degree in biology, and he earned his Plant-Based Nutrition Certificate in 2011. He has been weightlifting for more than a decade, and he is an outspoken advocate for a whole food, plant-based (WFPB) diet, toward which he began transitioning at the age of 19 after reading the works of Dr. T. Colin Campbell, Dr. Caldwell Esselstyn, and several other prominent researchers and clinicians.
Derek is the co-author of The Vegan Muscle and Fitness Guide to Bodybuilding Competitions. He works as a trainer both online and in his studio in Richmond, Virginia. Working one on one with his clients, he helps them improve their diet, fitness, and overall health. As he continues to gain greater recognition for his bodybuilding achievements, he plans to promote the power of the WFPB lifestyle for improving athletic performance. Learn more about Derek at veganmuscleandfitness.com, on Facebook, on Twitter, or on Instagram.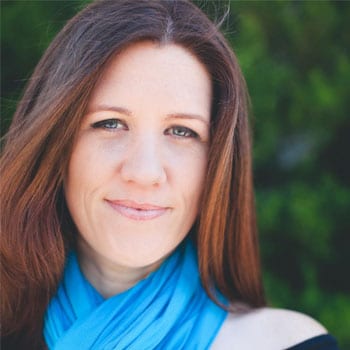 Mel Mason, LMT—Certified Health Coach
Working with other health professionals to promote plant-based nutrition to a broader audience.
Mel Mason was a self-employed licensed massage therapist (LMT) and a certified health coach when she took the Plant-Based Nutrition Certificate. "The eCornell course provided the motivation for a big career transformation. I knew I wanted to reach a broader audience to promote plant-based nutrition, so after I earned my certificate, I started nursing school. My long-term goal is to develop group programs for patients with chronic heart disease and diabetes, working to reduce or completely eliminate dependence on medications using a plant-based approach."
Mel explains, "Nursing school is a very effective way for me to make changes in the trajectory of chronic disease management, whether it be at the local or national level. I want to get to know the medical system from the inside in order to change it. I am thrilled to have this opportunity." She was employed at Dr. Andrew Weil's Center for Integrative Medicine at the University of Arizona. She helped develop a groundbreaking online program for doctors who are interested in incorporating alternative therapies into their practice. She also worked with health professionals to develop web-based curriculum in many modalities, including the areas of nutrition, mind–body medicine, cultural issues in healing, and Chinese medicine.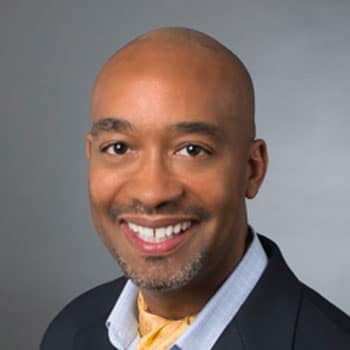 Jarik E. Conrad, EdD, MBA, MILR, SHRM-SCP, SPHR, CPT—Author and Entrepreneur
Transitioned to a WFPB diet after being prescribed a statin for the rest of his life.
Jarik E. Conrad is an award-winning author, entrepreneur, keynote speaker, and executive coach. He has earned a number of degrees and certifications, including his Plant-Based Nutrition Certificate in 2013. He is a research collaborator at the Mayo Clinic, and adopted a WFPB diet in 2009 after being prescribed a statin for the rest of his life. "Today I am prescription drug-free and my cholesterol has dropped more than 140 points!"
Motivated by the loss of two of his sisters, one to cancer and another to a heart attack, and inspired by the knowledge he gained in the certificate program, Dr. Conrad has been working hard to help as many people as possible prevent chronic diseases by improving their diets. He recently launched Sprouted Bean, and his product is called the Whole Health Improvement System—a learning program that uses emotional intelligence to help people lose weight and get healthy. Dr. Conrad says, "Over the past 10 years, through the Conrad Consulting Group, I have trained thousands of people on how to improve their social and emotional skills to be more effective leaders, better team members, and more productive employees. With the Whole Health Improvement System, you can use those same skills (like improving your impulse control, self-regard, and ability to manage stress) to finally get off of that diet roller coaster."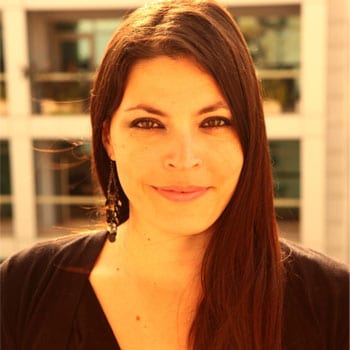 Sivan Pardo Renwick—Vegan Lifestyle Expert
Leading workshops and guiding online communities through transitions to veganism and plant-based diets.
Sivan Pardo Renwick is the founder and director of The Vegan Woman, a popular online platform dedicated to promoting the vegan lifestyle. As a vegan lifestyle expert, Sivan leads workshops and guides individuals, groups, and online communities through their transition to plant-based diets. She completed the T. Colin Campbell Center for Nutrition Studies Plant-Based Nutrition Certificate as part of her continuous efforts to provide those she guides with the most up-to-date knowledge and motivation to enhance their vegan lifestyle choice and to assist them in broadening their experience to include wholesome, healthy, and rewarding choices.
"While many people are motivated by ethics in their decision to go vegan," she explains, "others may transition to veganism for the enormous health benefits of a whole-food, plant-based diet. As someone who guides individuals through their transition, I found the T. Colin Campbell Plant-Based Nutrition Course was not only a fantastic way to affirm my knowledge of those benefits through concrete data, science and research, but also to highlight and clarify the dangers associated with the consumption of animal-based foods."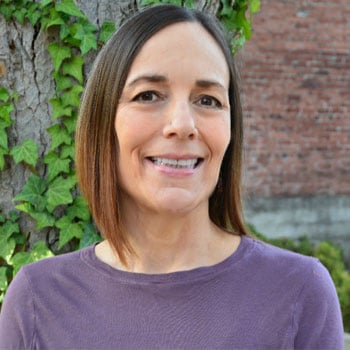 Andrea Seppinni—Plant-Based Chef
After losing her 53-year-old mother to breast cancer, she discovered that food could be the key to helping people.
Andrea Seppinni is a classically trained chef who shares her passion for a WFPB lifestyle on PlantChef.com and during her cooking classes. "I always understood the importance of knowing where one's food comes from and how it's prepared, especially since losing my mom to breast cancer when she was 53. However, while I was a lead cook for seniors with illnesses including diabetes, heart disease and Alzheimer's, I wanted to learn how to help, and thought the key might be their food."
Andrea read The China Study and changed her family's food preparation habits. Then she completed the Plant-Based Nutrition Certificate program. "I knew I would feel better about what I was feeding my family, but I was shocked at how much healthier I felt! My osteoarthritis greatly improved and lifelong digestive issues disappeared."
Andrea used her knowledge to work for a pain management physician for two years. "I taught his patients to shop for and prepare WFPB meals to reduce inflammation; it was satisfying to see their reduction in pain, weight and meds." Now, she teaches chef techniques using WFPB ingredients on PlantChef.com. Her goal is to show as many people as possible that eating healthfully is delicious!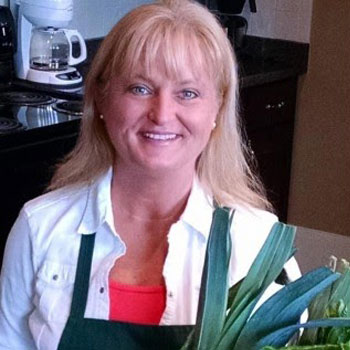 Terri Edwards—Cooking Instructor
Pursuing her passion for sharing the healing power of food.
Terri Edwards earned her Plant-Based Nutrition Certificate in 2014. Since then, she's gone on to partner with some of the top plant-based nutrition programs in the nation, including the PCRM (Physicians Committee for Responsible Medicine) Food for Life program and CHIP (Complete Health Intervention Program).
She teaches nutrition and cooking classes at local physicians' offices, as well as at a cancer center and research institute. She looks forward to partnering with local physicians and their CHIP programs by offering cooking/nutrition classes to their participants. She is also a plant-based food blogger for EatPlant-Based.com, where she has shared over 100 healthy, low-fat recipes; time- and money-saving kitchen tips; and some of the latest research on plant-based nutrition.
Terri states, "Since graduation, I have been able to pursue my passion for sharing the life-changing power of food for healing the body. My goal is to help others understand how easy and satisfying plant-based nutrition can be and watch their transformation back to health! Getting my Plant-Based Nutrition Certification was the beginning of it all!"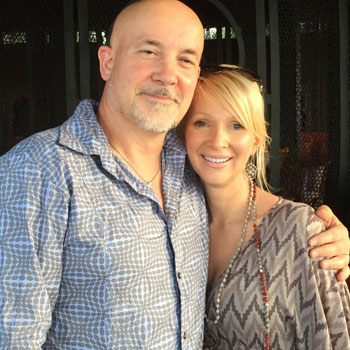 Natalie and Stuart McIntosh—Raw Food Instructor and Farmer
Formerly overweight and heavily medicated for depression… now off meds and feeling great.
Before completing the Plant-Based Nutrition Certificate and changing their diets, Natalie and Stuart McIntosh were experiencing a variety of health issues. "I was heavily medicated for depression, I had chronic fatigue, anemia, high cholesterol and was overweight," Natalie explains. "Stuart was taking daily medication for arthritis and reflux, gastric issues. All our health issues have disappeared and (under our doctor's supervision) we're both off all medications."
Now, the couple teaches raw plant-based "recipe" classes from their small organic family farm in Victoria, Australia. "What motivates me to share is knowing that everyone has this same opportunity. Of course not everything can be cured or healed but we can certainly improve the quality of our lives through the everyday choices we make." To view stunning photos of their farm, and free recipes, visit rawfoodforlife.org.
The Certificate in Plant-Based Nutrition enhances any credentials you may already have that allow you to counsel about nutrition, but the certificate alone does not qualify you to offer professional nutrition counseling. Learn more in the Center for Nutrition Studies Education Center, or attend a free 30-minute information session hosted by eCornell.
Copyright 2023 Center for Nutrition Studies. All rights reserved.