My vegan journey began in March 2015 when I read Dr. T. Colin Campbell's The China Study, which I found while searching for vegetarian cookbooks for my daughter. I was in nursing school at the time, and I had been diagnosed six months earlier with stage 1 melanoma and was at high risk for future melanoma. I have the skin divots to prove it! Dr. Campbell's book resonated with me to my core, and I switched to a plant-based diet before I was even halfway through it. Within a few months, my crippling seasonal allergies, frequent migraines, and constant hand pain had all but disappeared.
A year later, I watched the Forks Over Knives documentary and understood how my new mainstay of vegan junk food and the occasional fish were not necessarily healthy. I was also inspired by Chef Del Sroufe's story, and I enjoyed cooking with his recipes. I lost a lot of weight, eventually reaching normal weight for the first time in nearly 15 years. Lastly, I took Dr. Campbell's eCornell Plant-Based Nutrition Certificate program while recuperating from rotator cuff repair, which opened my eyes to the environmental damage of producing animal-based foods.
When I started nurse practitioner school while working full time, however, I started gaining back some of the weight I'd lost. Despite the progress I'd made, I had not adequately addressed my tendency to overeat, and I went back to eating unhealthy options like tortilla chips for stress and emotional reasons. Also, due to another torn rotator cuff on the opposite side, I had to cut back on my exercise. Even walking was too jarring and painful. I delayed surgery due to school, which led to even more painful complications. Needless to say, I regained all that weight, and then some. I also found out that my earlier hand pain was really rheumatoid arthritis, which was worsened by my dietary choices.
Dr. Campbell's book resonated with me to my core, and I switched to a plant-based diet before I was even halfway through it.
I finally finished nurse practitioner school in April 2021. When I started working in a small primary care clinic in May, I felt that I really needed something to help jump start my weight loss again, so that I could be a better example for my patients. That's when I ran across CNS Kitchen. I had been following Chef Del's more recent journey back to health through some plant-based podcasts and Facebook posts, and I was inspired by his honesty and grit. I especially loved that the challenge was sponsored by the T. Colin Campbell Center for Nutrition Studies (CNS).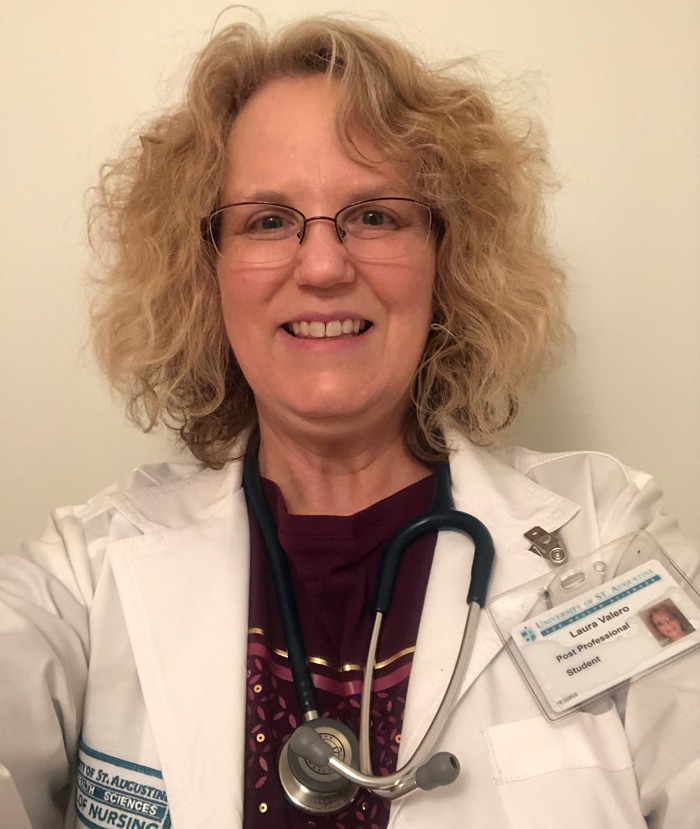 I joined the challenge and followed a strict whole food, plant-based diet. This gave me the opportunity to log what I ate each day and send my logs to a CNS representative, who recorded my entries and gave me daily notes of encouragement. Through daily logging, I am finally understanding what foods affect my body and what my stress triggers are. I already knew I was sensitive to salt, which causes weight gain, but through daily weigh-ins and diet logging, I was able to pinpoint exactly which foods I need to avoid or modify, including some of my favorite recipes. As a result, I am seeing results that I have previously been unable to achieve.
I look forward to the next challenge, so I can continue to fine-tune my progress. For instance, I want to increase my water intake as well as the number of days that I exercise each week. Learning to make incremental change has also helped me coach my patients to not bite off more than they can chew. My next step is taking my boards so that I can be certified as a lifestyle medicine provider by the end of the year, as well as doing a rotation at the Barnard Medical Center. I hope to use what I learn from these endeavors to help my fellow challenge participants, as well as my patients.
Copyright 2023 Center for Nutrition Studies. All rights reserved.