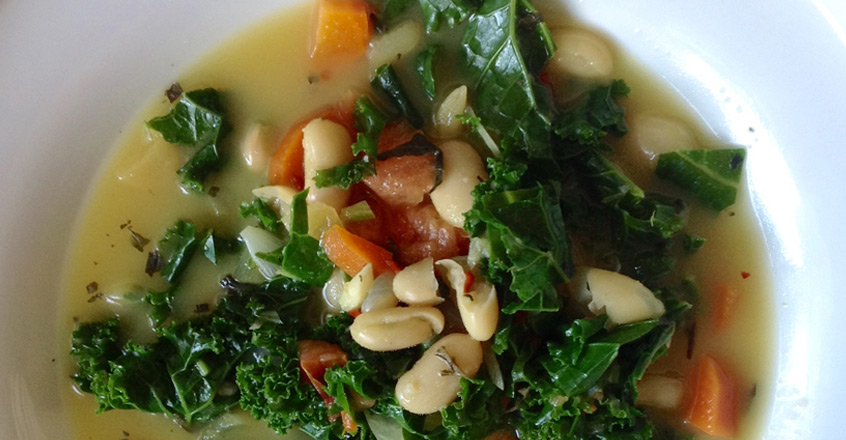 Ingredients
1 medium onion
1 carrot
4 cloves garlic
1 Tbsp dried rosemary
1 ½ tsp red chili flakes
1 tsp dried basil
6 cups vegetable stock
1 15 oz can cannelini beans (about 1 ½ cup cooked beans)
1 bunch kale ( about 4-6 cups)
¼ cup nutritional yeast
2 Roma tomatoes
Salt and pepper, to taste
Instructions
1. To make the soup: Dice the onion and carrot. Mince the garlic.
2. Place the onion, carrot, and garlic in a medium pot with rosemary, red chili, basil, and 1 cup water. Cover and sweat until onions are translucent.
3. Drain and rinse the beans.
4. Add the beans and vegetable stock to the pot. Cover and simmer until the vegetables are tender, about 10 minutes. Turn off heat when finished
5. Meanwhile, strip kale leaves. Discard stems. Chop leaves into bite sized pieces.
6. Add chopped kale and nutritional yeast. Stir well then cover so that the kale steams in the soup.
7. Stir in the diced tomato and taste to adjust seasoning.
Cooking Tips
1. This soup is a great base for using up any dark greens. Baby spinach, arugula, chard, mustard greens and all types of kale work well.
100% online, learn at your own pace
Instructor led format
No prerequisites
Continuing education credits