Smashed Rosemary Potatoes With Sour Cream & Stewed Apples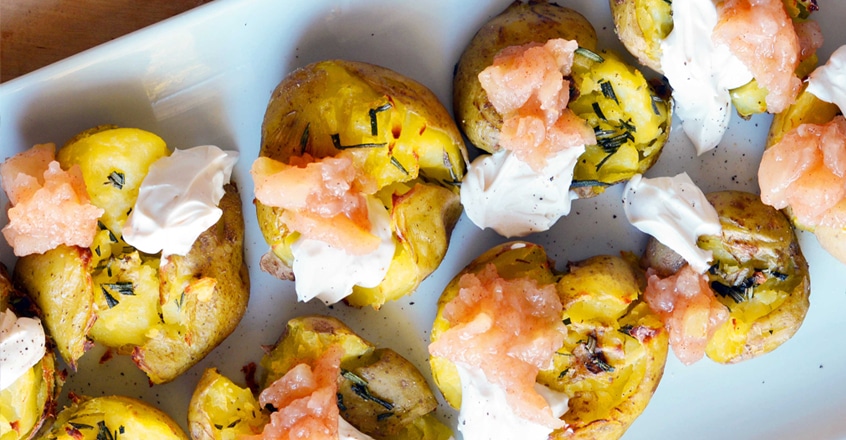 Tangy sour cream and sweet stewed apples pair perfectly with the crispy outsides and steamy hot potato-y goodness inside.
This recipe is adapted from The Colorful Family Table by Ilene Godofsky Moreno.
What You'll Need
---
POTATOES
2 lbs small Yukon Gold potatoes (~12 potatoes)
1 Tbsp chopped fresh rosemary (or 1 tsp dried)
Salt and black pepper, to taste
SERVE WITH
Cashew sour cream (see below)
Easy Stewed Apples (see below) or store-bought applesauce
CASHEW SOUR CREAM
1 cup raw cashews, soaked in water for at least 4 hours
Juice of ½ –1 lemon, to taste
2 tsp apple cider vinegar
Salt and black pepper, to taste
EASY STEWED APPLES
8 medium apples (about 2 1/2 pounds), diced
How to Make It
---
1 Preheat the oven to 400 degrees F. Line a baking sheet with parchment paper.
2 Bring a large pot of salted water to a boil over high heat. Add the potatoes and boil them for 20–25 minutes (depending on the size of the potatoes), until tender when pierced with a fork.
3 Drain the potatoes, then spread them out on the baking sheet. Use a fork to carefully smash each potato, making sure not to completely break it apart.
4 Sprinkle rosemary, salt, and pepper on top.
5 Bake for 20–25 minutes, or until the potatoes are crispy. Serve warm, with sour cream and Easy Stewed Apples or applesauce.
CASHEW SOUR CREAM
1 Drain and rinse the cashews. Transfer the cashews to a blender and add the lemon juice apple cider vinegar, and maple syrup.
2 Starting with 1 Tbsp at a time, add the nondairy milk as needed to blend, and blend until completely smooth.
3 Add the salt and pepper and stir. Transfer to an airtight container and store in the refrigerator for up to 5 days.
EASY STEWED APPLES
1 In a large pot, add water, raisins, lemon juice, cinnamon, and salt.
2 Bring the mixture to a simmer over medium heat.
3 Let the apples simmer for 45 minutes, stirring every 5–10 minutes, then turn the heat off and let the pot sit for 5 minutes. Enjoy warm, or let cool and transfer to an airtight container and store in the refrigerator for up to 5 days.
Cooking Tips
You can make the recipe more applesauce-like by finely dicing the apples or make it chunkier by cutting them into 1-inch pieces. I like to do a mix of large and small dice for a fun texture, or to keep the apples extra chunky for a toddler-friendly finger food.
Granny Smith apples are slightly tart and will hold their shape when cooked; for a sweeter, "saucier" version of this dish, choose a sweet variety such as Gala or Fuji.
Copyright 2022 Center for Nutrition Studies. All rights reserved.