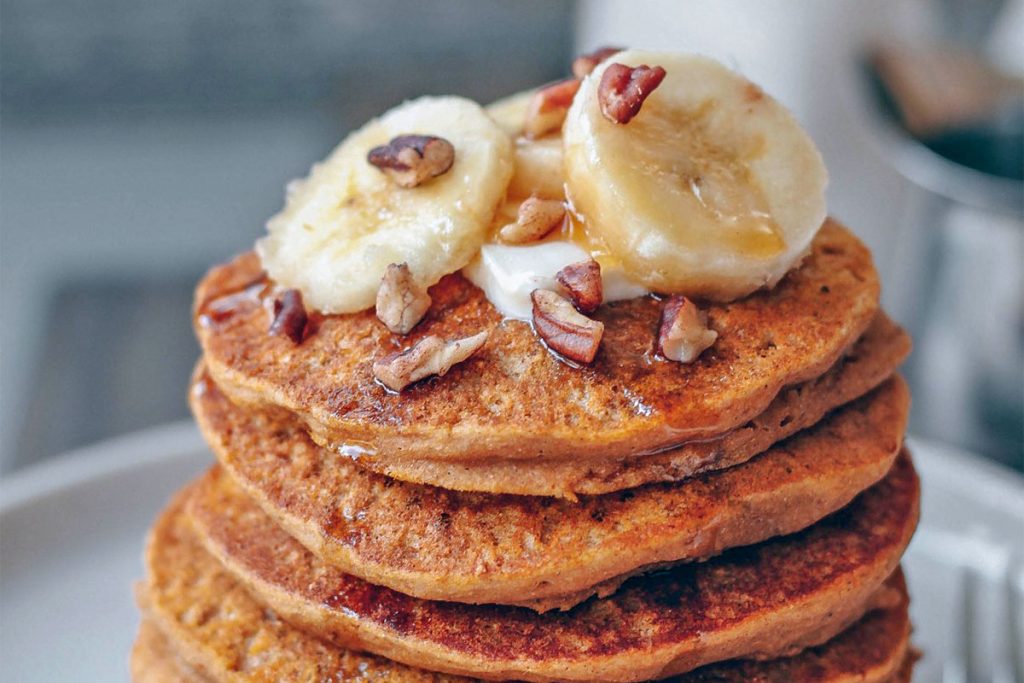 Ingredients
1 cup whole wheat flour
1 Tbsp date sugar
1 ½ Tbsp baking powder
½ tsp pumpkin pie spice
¼ cup pumpkin purée
1¼ cup plant-based milk
Instructions
1. In a large mixing bowl, whisk together the flour, sugar, baking powder, and pumpkin pie spice. Add the pumpkin pureée and plant-based milk, and stir to combine.
2. Heat a large nonstick skillet over medium heat. For each pancake, pour ¼ cup of the batter into the skillet. You should be able to fit 2-3 pancakes in a large skillet at a time.
3. Cook each pancake until bubbles appear on the surface and the edges become slightly matte. Flip and cook for an additional 30 seconds or until golden brown. Repeat with remaining batter.
4. If freezing, let the pancakes cool for 5 minutes. Space them evenly on a large baking sheet and flash freeze them for 10 minutes. Then, wrap them tightly in foil or a sealed plastic bag.
5. Freeze for up to one month. Reheat in an oven at 350 degrees F for 10-15 minutes or in a toaster.
6. Top with sliced banana, chopped pecans, and maple syrup.
100% online, learn at your own pace
Instructor led format
No prerequisites
Continuing education credits