Lemon Poppy Seed Pancakes
We often start our weekend mornings with a special breakfast. I love lemon poppy seed muffins, so I had to create a pancake around the same flavors. This unique combination of Japanese sweet potatoes, oats, and quinoa is the secret to perfect pancakes every time. We love topping these amazing pancakes with a seasonal fruit compote!
What You'll Need
---
½ cup uncooked millet or quinoa
1 ¾ cups plant-based milk
1 cup Japanese sweet potatoes, steamed and mashed
6 dates, pitted and soaked
1 tsp pure vanilla extract
2 lemons, juiced (about 1/4 cup lemon juice)
How to Make It
---
1 Place the millet or quinoa and oats into a blender and process on high until the mixture resembles flour. Add the baking powder to the blender and process again.
2 Add the plant-based milk, mashed Japanese sweet potatoes, dates, vanilla, and lemon juice to the blender. Blend until smooth and creamy. You may need to stop the blender and scrape down the sides to incorporate all the flour.
3 Pour the batter into a medium-size bowl and fold in the lemon zest and poppy seeds until evenly distributed.
4 Heat a nonstick griddle over medium-high heat. Pour about ¼ cup of batter per pancake onto the hot griddle, and cook until the pancakes are bubbly on top and the edges are slightly dry, about 2 to 3 minutes. Flip and cook until the pancakes are browned on the other side, another 2 to 3 minutes. Repeat with the remaining batter.
Cooking Tips
If you prefer a thinner pancake, add more milk one tablespoon at a time until you have the consistency you prefer.
You can use white sweet potatoes instead of Japanese sweet potatoes.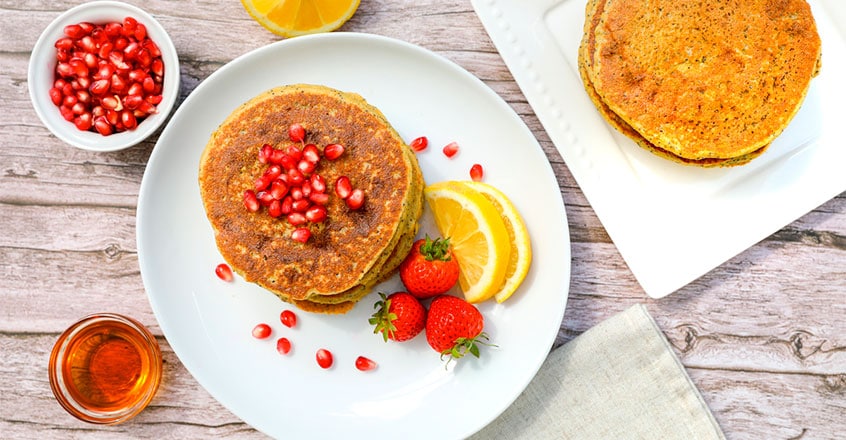 Copyright 2022 Center for Nutrition Studies. All rights reserved.