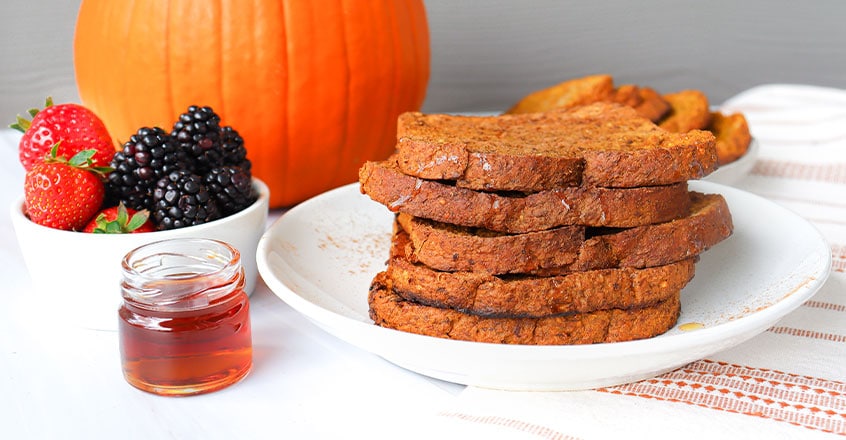 Ingredients
8-10 slices whole grain bread
¾ cup pumpkin puree
1½ cups unsweetened non-dairy milk
1 Tbsp maple syrup
1 Tbsp flax meal
1 tsp cinnamon
¼ tsp nutmeg
¼ tsp turmeric
1 pinch of ground cloves
Instructions
1. Whisk all the batter ingredients together.
2. Set a non-stick skillet over medium heat.
3. Dredge each slice of bread briefly in the batter. Don't let it soak! It will make the bread too soggy.
4. Cook until the bottom is golden brown. Flip and cook until the other side is also golden brown. If it looks like the inside is not cooking fast enough as the outsides are cooking, turn the heat down a bit.
Cooking Tips
1. The type of bread you use will greatly affect the finished product. I recommend using a dense, whole grain bread such as Ezekiel. It must be strong enough to hold up to the batter, which is quite thick. Using a wimpy bread will result in mushy french toast.
2. For a baked French toast option, preheat oven to 425 degrees F. Place the dredged slices of bread on a baking sheet lined with parchment paper and bake for 15 minutes. Flip and bake for another 15 minutes or until bread is toasted but not burned.
3. Serve with whatever you like, pure maple syrup, jam, fruit, etc.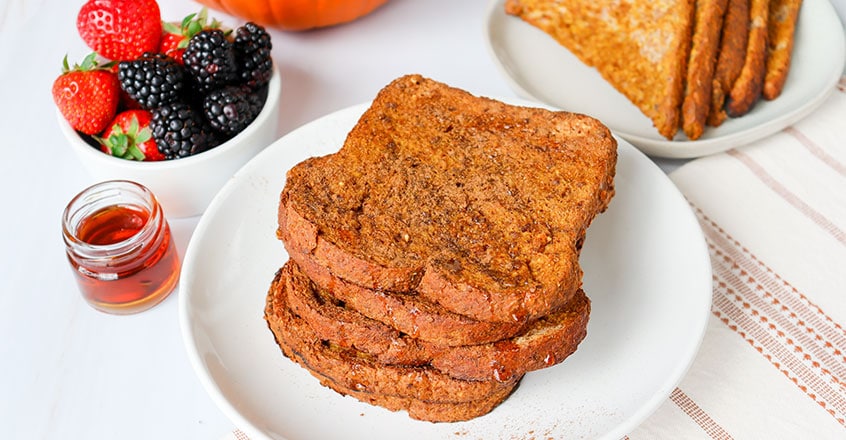 100% online, learn at your own pace
Instructor led format
No prerequisites
Continuing education credits