Unbelievably Plant-Based Double Chocolate Cake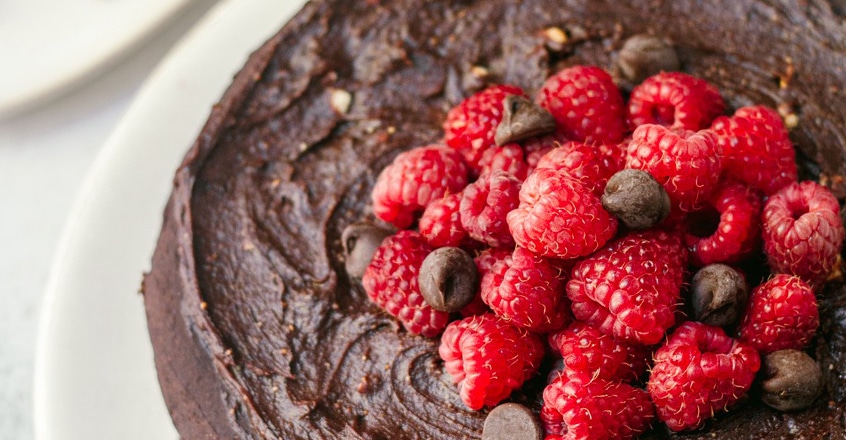 What You'll Need
---
1 flax egg (1 ½ Tbsp flaxseed meal + 3 Tbsp water)
1 cup medjool dates, soaked in boiling water for 10 minutes
⅔ cup + 2 Tbsp almond milk
1 ½ cups gluten-free flour
CHOCOLATE PEANUT BUTTER FROSTING
Chocolate chips, optional
Fresh raspberries, optional
How to Make It
---
1 Preheat oven to 350 degrees F.
2 Line two 8" round cake pans with parchment paper.
3 Prepare the flax egg by combining flaxseed meal and water. Set aside.
4 In a blender, combine soaked dates and 5 Tbsp water. Blend until a creamy paste forms.
5 Add date paste to a small mixing bowl and whisk in maple syrup, vanilla, almond milk, and flax egg.
6 In a large mixing bowl, combine the flour, cocoa powder, baking soda, baking powder, and salt. Pour the wet ingredients into the dry. Use a spatula to combine. (The batter will be fairly thick.)
7 Evenly distribute the batter into the two cake pans.
8 Bake for 18 minutes, or until a toothpick inserted comes out clean.
9 Cool for 10 minutes in the cake pans, then transfer to a wire cooling rack to completely cool.
10 To make the frosting, whisk together the first four frosting ingredients until creamy.
11 Spread 2 heaping tablespoons of frosting onto one cake layer.
12 Place second cake layer on the first, and spread the rest of the frosting on top.
13 Add fresh raspberries and chocolate chips if desired.
Copyright 2022 Center for Nutrition Studies. All rights reserved.