Chili Con Queso and Salsa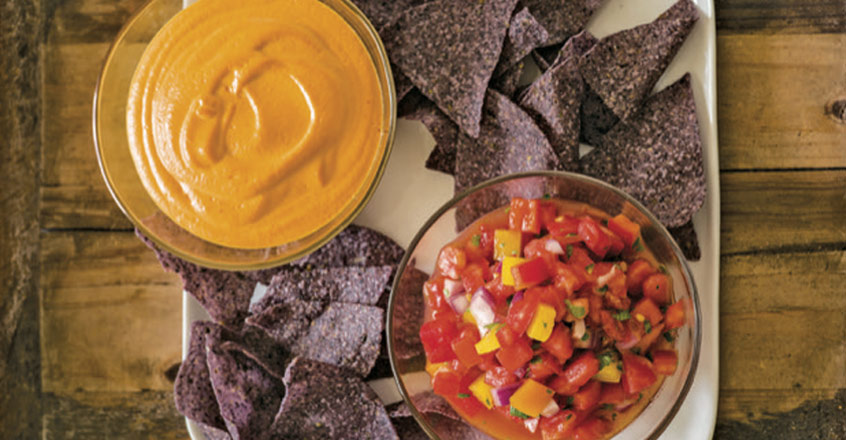 My intention while creating the recipes in The Game of Eating Smart was to reach not only the fans of the star MLB players in the book but also the person that may be where I was ten years ago. I was a traditional, high-end chef making food for flavor and presentation with no parameters – my eating habits the same. I was fortunate enough to have made friends with a few people that were living a plant-based lifestyle and happened to plant a seed in me. They had just the right amount of kindness, open-mindedness and knowledge to guide me in a direction that has changed my life in a profound way. Through the players' personal experiences with food (and life) and well-thought out recipes, I am hopeful that this book can do the same.
*Adapted from THE GAME OF EATING SMART ©2019 by Julie Loria and Allen Campbell. Photograph ©2019 by Ben Fink. Published by Rodale Books, an imprint of the Crown Publishing Group, a division of Penguin Random House LLC.
What You'll Need
---
QUESO "CHEESE" DIP
2 red bell peppers, roasted, skin and seeds removed
½ tsp crushed red pepper flakes, or to taste
SALSA
¼ cup finely chopped red onion
1 Tbsp chopped fresh cilantro
1 tsp minced seeded jalapeño
Salt and freshly ground pepper
How to Make It
---
QUESO "CHEESE" DIP
1 In a high-powered blender, combine all ingredients with 2 tablespoons water and process until smooth.
SALSA
1 In a medium bowl, combine all ingredients through the jalapeño. Season with salt and pepper to taste.
Cooking Tips
If not using a high-powered blender, soak the cashews for 8 hours or up to 12 hours in room-temperature water. Drain and rinse well.
Copyright 2022 Center for Nutrition Studies. All rights reserved.