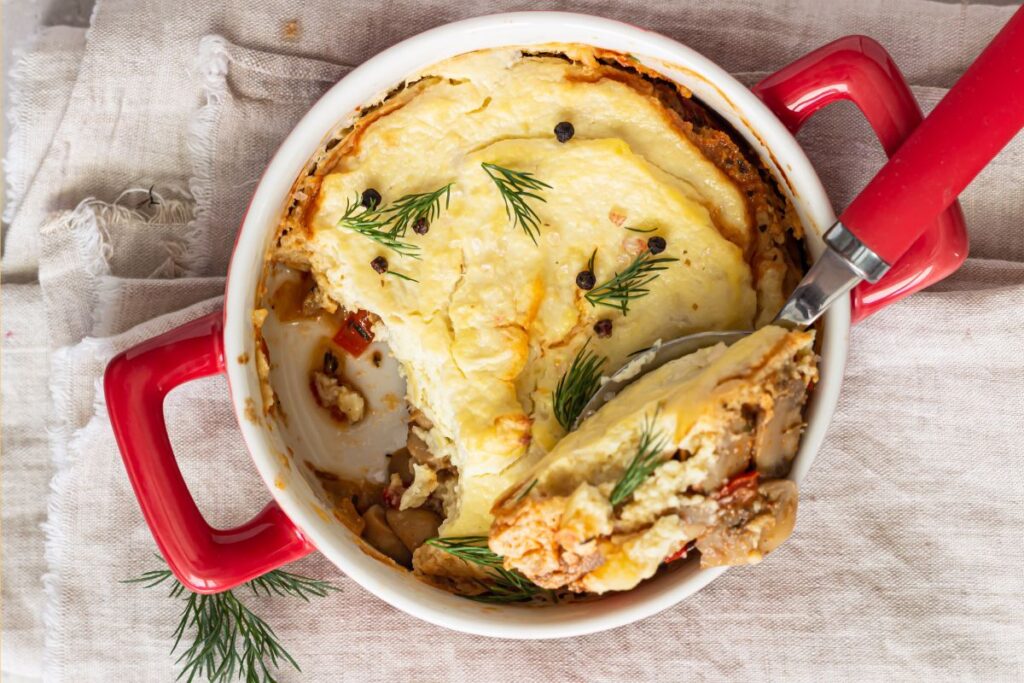 Ingredients
1 medium yellow onion, diced small
3 large cloves garlic, peeled, split, and finely chopped
2 medium tomatoes, diced
1 Tbsp tomato paste
2 Tbsp minced fresh sage
2 tsp minced fresh thyme
1 tsp minced fresh rosemary
3 stalks celery, cut into 3-inch lengths
3 medium carrots, cut into 3-inch lengths
2 large turnips, peeled, trimmed, and quartered
1 medium fennel bulb, trimmed and quartered
4 cups low-sodium vegetable broth, more as needed
5 cups cooked cannellini beans
Sea salt and black pepper, to taste
1 cup whole-grain bread crumbs
Instructions
1. Preheat oven to 350 °F.
2. Heat a large skillet over medium heat. Add the onions and sauté for 5 minutes until the onions turn translucent. Add water 1 to 2 tablespoons at a time, as needed, to keep the onions from sticking to the pan.
3. Add the garlic and cook for another minute.
4. Add the tomatoes, tomato paste, sage, thyme, and rosemary, and cook for 5 minutes.
5. Add the celery, carrots, turnips, fennel, vegetable broth. Cook for 15–20 minutes until the vegetables are tender.
6. Add more vegetable broth if the stew is too thick.
7. Add the beans, and spoon the stew into a 9x13-inch casserole dish with high sides.
8. Spoon the mashed potatoes over the stew, sprinkle with bread crumble, and bake for 30 minutes until the bread crumbs are lightly browned.
Cooking Tips
1. You can replace the Parsnip Mashed Potatoes with either regular mashed potatoes or mashed sweet potatoes.
100% online, learn at your own pace
Instructor led format
No prerequisites
Continuing education credits