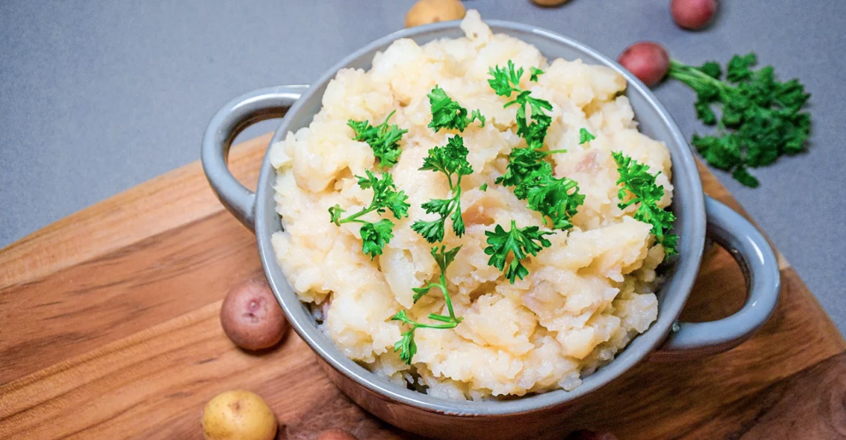 Ingredients
8 medium red potatoes
½ tsp black pepper
10-12 cloves of fresh garlic
1-2 cups potato water
1 cup unsweetened, non-dairy milk
Water or low-sodium vegetable broth for Sautéing
Salt/pepper to taste
Instructions
1. Cut potatoes into eighths (leave the skins on).
2. Cover with water and boil over medium heat until soft, about 15 minutes.
3. Peel, crush and mince garlic cloves.
4. Sauté garlic in a small pan with water or vegetable broth, until softened. Set aside.
5. Drain cooked potatoes over a bowl to catch the potato water.
6. Using a hand masher or an electric mixer, mash the potatoes. Add back one cup of the potato water and add the salt, pepper and sautéed garlic.
7. Add more potato water and/or milk as needed to get a creamy consistency.
8. Serve right away or keep in warm oven covered until ready to eat.
Cooking Tips
1. New red potatoes make creamier mashed potatoes.
2. If your garlic is old or the cloves are very small more will be needed to get a really garlicky flavor.
100% online, learn at your own pace
Instructor led format
No prerequisites
Continuing education credits