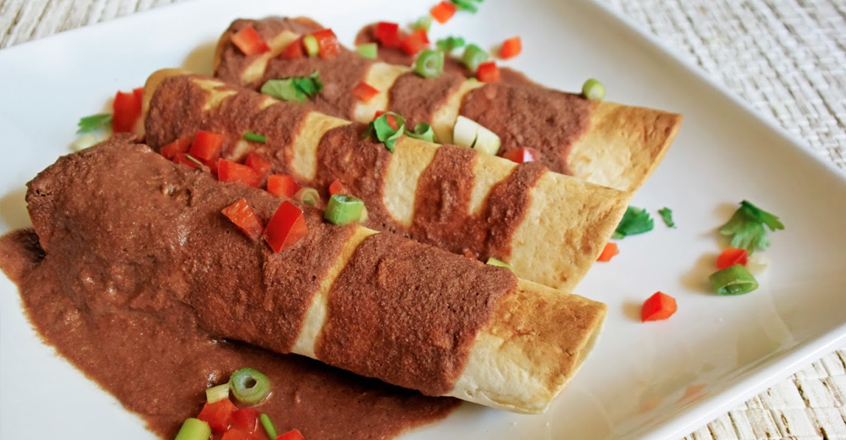 Ingredients
2 cups cooked kidney beans
8 oz firm tofu
2 cups baby spinach
2 cloves of garlic
½ tsp ground chili
Juice of 1 lime
6 wholegrain tortillas
2 cans (15 oz) diced tomatoes
1 tsp veggie broth
½ cup water
1 tsp ground cumin
1 tsp ground chili powder
1 tsp ground coriander
2 tsp dried oregano
1 Tbsp raw cacao powder
1 Tbsp corn flour
Instructions
1. Chop the spinach and add juice of 1 lime. Microwave or steam until just wilted.
2. Crumble the tofu and add to the spinach the garlic, chili powder and beans.
3. For the sauce; combine the broth and ½ cup boiling water in a saucepan. Add the cumin, coriander, oregano, cacao and chili and whisk together.
4. Add 2 cans of diced tomatoes and bring to the boil.
5. Mix the cornflour with 3 Tbsp of water and slowly add to the sauce.
6. Simmer for 10 minutes stirring regularly. The sauce should thicken slightly.
7. Spread about ¼ cup of sauce into the bottom of a baking dish or pan.
8. To assemble the enchiladas, lay the tortillas on a flat surface and add some of the filling mixture. Roll up the tortilla and place in the sauced baking dish, seam-side-down. Dipping the tortilla in the sauce before rolling will make them more pliable
9. Pour remaining sauce over enchiladas and bake at 350 degrees F until the sauce starts to brown at the edges (approximately 15-20 minutes).
100% online, learn at your own pace
Instructor led format
No prerequisites
Continuing education credits