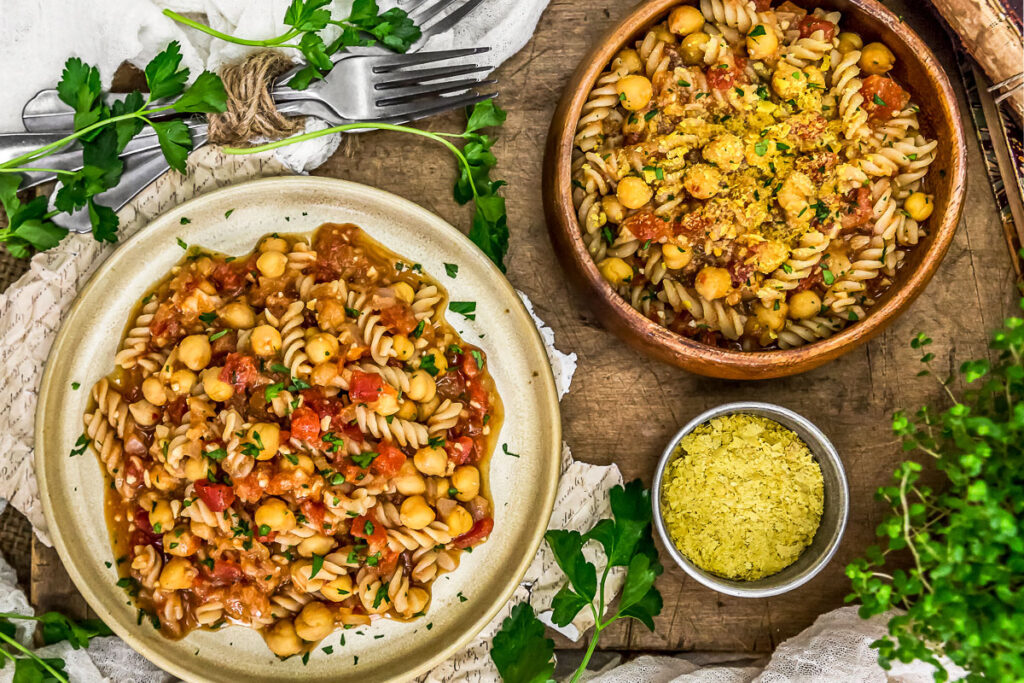 Ingredients
Base Ingredients
9 ounces whole grain fusilli pasta (or pasta of your choice)
1 cup finely diced yellow onion
2 Tbsp minced garlic
½ cup low-sodium vegetable broth
½ cup water (or broth)
1 (14-ounce) can petite diced tomatoes
¼ cup + 1 Tbsp barbecue sauce
3 Tbsp nutritional yeast
1 ¾ cups cooked chickpeas, drained and rinsed
Seasoning Blend
1 tsp garlic powder
1 tsp onion powder
2 Tbsp dried minced onion flakes
½ tsp sea salt, or to taste
Pinch black pepper
¼ tsp red pepper flakes (optional)
Optional Toppings
Nutritional yeast
Freshly chopped parsley
Instructions
1. Cook the pasta al dente according to package instructions, drain, rinse with cold water, and set aside.
2. Meanwhile, in a small bowl, combine all ingredients for the seasoning blend. Set aside.
3. In a large non-stick skillet or Dutch oven, sauté the diced onions over medium-high heat for 7 to 9 minutes until they soften, then add the garlic and sauté over medium heat for several minutes more.
4. Add the broth, water, tomatoes, barbecue sauce, and nutritional yeast. Increase the heat to bring the liquid to a boil, then immediately lower to a simmer. Add the seasoning blend and stir well to combine. Simmer on low for 4 minutes. Taste and adjust as needed.
5. Add the cooked pasta and chickpeas, stir well to combine, and simmer on low for 2 minutes. Remove from the stove and allow to sit undisturbed for at least 4 minutes to allow the flavors to marry.
6. Serve topped with nutritional yeast and a sprinkle of fresh parsley.
Cooking Tips
1. After you remove the skillet from the stove, make sure to give it enough time to sit. This will help the pasta absorb the flavors and thicken the sauce.
2. You might be tempted to use more pasta. But if you use too much, the dish will come out dry.
100% online, learn at your own pace
Instructor led format
No prerequisites
Continuing education credits