Creole Red Beans and Rice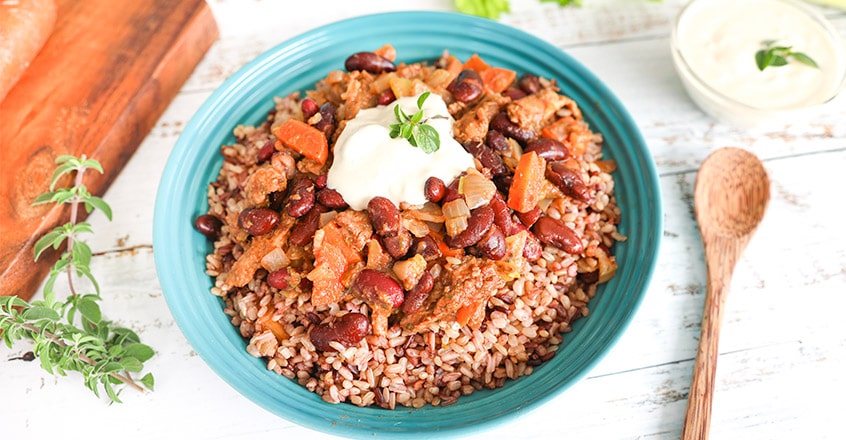 This is a recipe that we use in our PlantPure frozen entrée line. It's easy to prepare and quite popular with everyone who enjoys Creole favors. I recommend making a vegan sour cream to top this dish; you can find a recipe on our website and in The PlantPure Nation Cookbook.
Reprinted fromThe PlantPure Kitchen (BenBella Books, 2017).
What You'll Need
---
SALSA
½ cup finely chopped fresh cilantro
¼ cup apple cider vinegar
CREOLE BEANS
2 cups Butler Soy Curls (optional)
4 cups warm water (optional, for rehydrating the Soy Curls)
4 celery stalks, finely diced
4 carrots, peeled and finely diced
2 green bell peppers, seeded and finely diced
¼ cup dry red wine or additional water
3 cups cooked red kidney beans
1 tsp apple cider vinegar
1 tsp sea salt or to taste
6 cups cooked brown rice, for serving
How to Make It
---
1 For the salsa, blend all the ingredients and set aside in the refrigerator to marinate for a few hours before serving.
2 If using Soy Curls, combine with water in a medium bowl. Let sit for 10 minutes, or until fully rehydrated, then drain.
3 In a nonstick skillet over medium-high heat, sauté onions, garlic, celery, carrots, and bell peppers in the red wine until tender, about 8 minutes.
4 Add the drained Soy Curls (if using), beans, tomato paste, maple syrup, mustard, vinegar, black pepper, oregano, and allspice. Reduce the heat to medium and cook for 45–60 minutes, until the vegetables are tender. Season with sea salt and serve over brown rice. Top with salsa and vegan sour cream.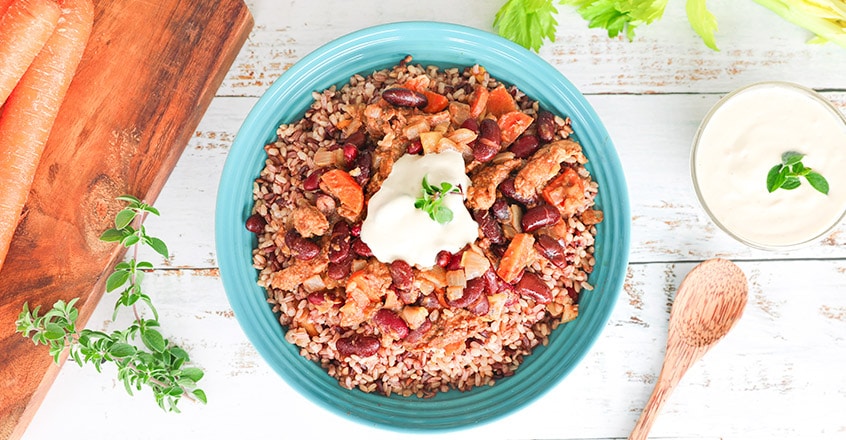 Copyright 2022 Center for Nutrition Studies. All rights reserved.