Creole Okra and Lentil Stew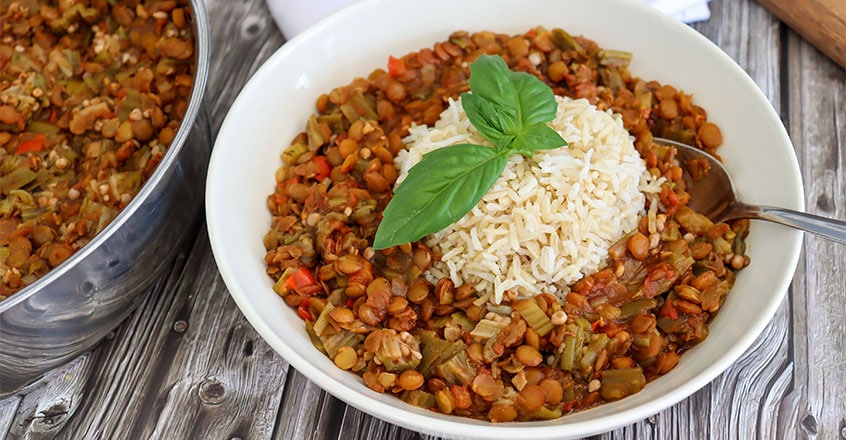 Showcasing the "holy trinity" of Louisiana Creole cuisine—onions, bell peppers, and celery—and a warm blend of aromatic herbs, it is pure comfort food. Try it over rice or a baked potato. You can't go wrong!
What You'll Need
---
1 cup chopped red bell peppers
½ tsp dried cayenne pepper
6 cups cut okra (frozen or fresh)
3 ½ cups low-sodium vegetable broth
2 Tbsp hot sauce, not tabasco (optional)
Fresh basil leaves, for garnish (optional)
How to Make It
---
1 Heat a heavy-bottomed pot over medium-low heat.
2 Add onions, bell peppers, and celery to the pot. Sauté until vegetables are tender, stirring frequently and adding broth as needed, one tablespoon at a time, to prevent sticking. This process should take about 10 minutes.
3 Add garlic and stir for about 1 minute.
4 Add a few tablespoons of broth and stir. Add all herbs and spices.
5 Stir in tomatoes, ½ cup broth, and okra. Cover pot and simmer for 15 minutes, stirring regularly.
6 Add remaining broth and lentils. Bring to a light boil, stir, cover, and simmer on low heat for about 30 minutes, or until lentils are cooked and the stew's consistency is similar to a thick, chunky gravy.
7 Add additional broth or water for a thinner consistency, if desired.
8 Serve over rice or a baked potato.
9 Garnish with fresh basil, if desired.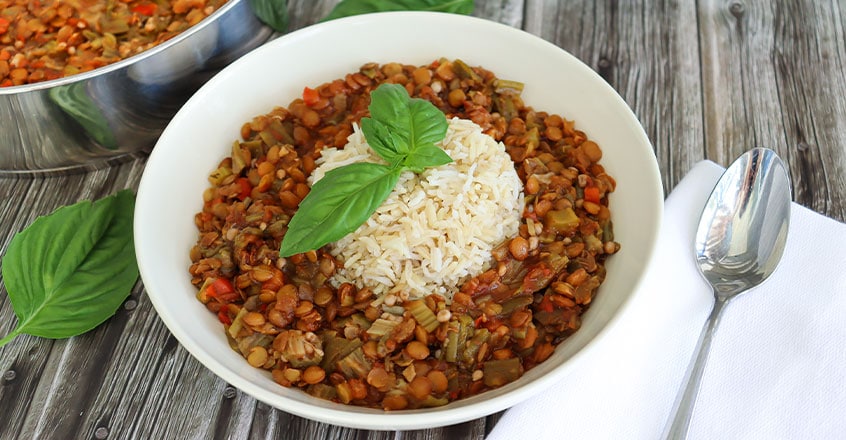 Copyright 2022 Center for Nutrition Studies. All rights reserved.