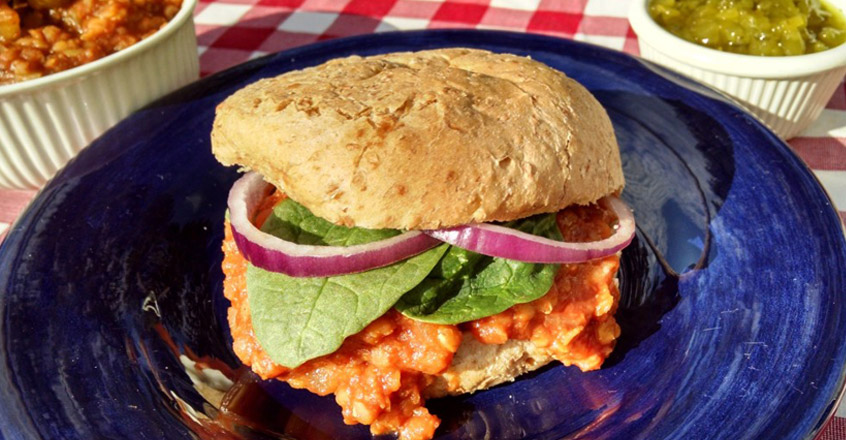 Ingredients
5 Tbsp veggie broth
1 small onion, diced
1 small red bell pepper, diced
2 stalks celery, diced
1 tsp ground cumin
1 tsp chili powder
1 cup lentils
1 cup bulgur wheat, cooked
3 ½ cups water
1 15 oz can tomato sauce
4 Tbsp tomato paste
1 Tbsp hoisin sauce
1 tsp salt
1 tsp garlic powder
2 tsp balsamic vinegar
Instructions
1. In large cooking pot, saute diced onion, celery, and red bell peppers in veggie broth approximately 5 minutes.
2. Add cumin, chili powder, garlic powder, and salt.
3. Then add lentils, bulgur, water, tomato sauce, tomato paste, balsamic vinegar, and hoisin sauce. Increase heat to medium high and bring to a boil.
4. Once boiling, turn heat down to low and cook uncovered about 30 minutes, stirring occasionally.
5. Taste lentils to make sure they are tender. Serve on whole grain buns with favorite toppings.
Cooking Tips
1. Hoisin sauce can be found in the Asian section of most grocery stores.
2. Try topping with the following: lettuce, spinach, onions, relish, pickles, plant-based coleslaw, anything goes!
100% online, learn at your own pace
Instructor led format
No prerequisites
Continuing education credits