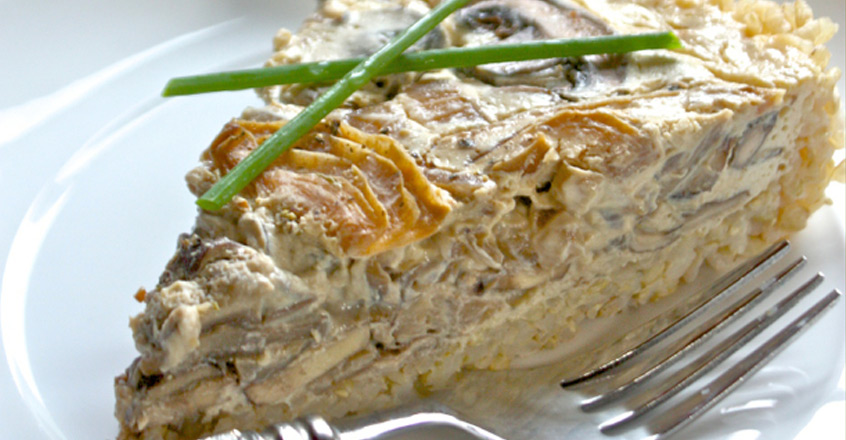 Ingredients
1 cup short-grain brown rice + 2¼ cups water
1½ pounds mushrooms (portabella, shiitake, button etc.)
1 large, sweet onion
2 tsp Bragg Organic Sprinkle (or any herbal spice blend)
½ tsp ground black pepper
7 oz extra firm tofu
1 cup plain non-dairy milk
¼ cup arrowroot or tapioca powder
¼ tsp ground turmeric
¼ cup cooking sherry or white wine
2 tsp onion powder
2 tsp tamari or low-sodium soy sauce
1 tsp molasses
Instructions
1. Cook the rice with the water, as you usually would. Set aside to cool off.
2. Slice the onion into thin strips and water-sauté until tender. Add 1 tsp molasses at the end and cook at bit more to incorporate. Set aside.
3. Water sauté the mushrooms with the spice of your choice. I used Organic Sprinkle which reminds me of Thanksgiving! When the mushrooms are tender and most of their water has cooked off, deglaze the pan with the sherry or white wine and cook for a few more minutes. Set aside.
4. Place the tofu, milk, arrowroot, tamari, onion powder and turmeric in a blender and blend until smooth.
5. Spoon the rice into a pie plate and press down to form a crust. The rice should be just warm or room temperature but not cold, which will make it more pliable and easy to work with. I used some plastic wrap and a pastry roller to get the crust nice and flat and even. Use your fingers to work it up the sides.
6. Toss the mushrooms with half of the tofu mixture and spoon into the pie or tart dish. Level out.
7. Top with the onions and pour the remaining tofu mixture over the top, again smoothing out the surface.
8. Add a twist or two of ground black pepper to the top.
9. Bake for about 45 minutes at 350 degrees F. Cover loosely with some foil towards the end so the crust doesn't get too dry.
10. Let cool for a while before serving (it will slice better).
100% online, learn at your own pace
Instructor led format
No prerequisites
Continuing education credits