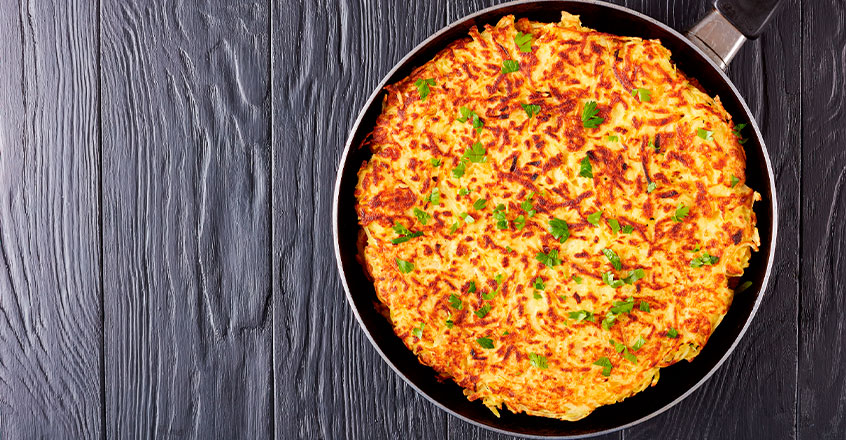 Ingredients
3 cups russet potatoes, shredded
2 small tomatoes
1 medium onion, diced
1 cup mushrooms, sliced
Curry powder, to taste
Salt and pepper, to taste
Instructions
1. In a comal or skillet, roast the tomatoes whole until they are thoroughly cooked. Remove from heat, cool, slice, and set aside.
2. In a skillet over low heat, sauté the onions until golden brown. Add the mushrooms and cook for 2 minutes. Remove from heat and season with salt and pepper.
3. In a medium nonstick skillet, layer half of the grated potatoes. Place the cooked onion, mushrooms, and tomatoes on top of the potatoes.
4. Cover the vegetables with the rest of the grated potatoes, making sure that the lower and upper layers of the potatoes meet at the periphery.
5. Cook over medium-high heat for four minutes. Using a plate, flip the contents of the pan and return to cooking the other side for another four minutes.
6. Remove from heat and serve immediately.
Cooking Tips
1. Once cooked, these stuffed hash browns can be cooled, placed in resealable bags, and frozen for up to two months.
2. You can substitute finely chopped bell peppers for the mushrooms.
3. Reheat in an air fryer, oven, or skillet.
100% online, learn at your own pace
Instructor led format
No prerequisites
Continuing education credits