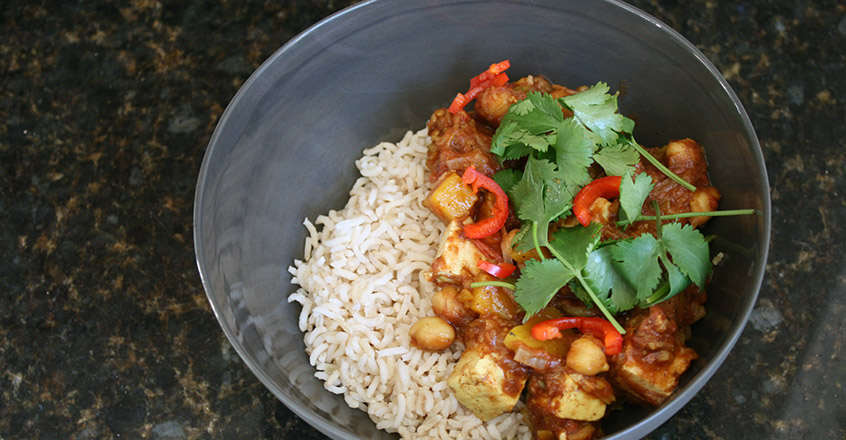 Ingredients
2 14 oz can diced tomatoes
2 14 oz can chickpeas or 1 pound firm tofu. For the tofu: dice into inch-sized cubes. For the chickpeas: drain and rinse in a colander.
2 heaped cups diced pumpkin
1 cup water
2 tsp garam masala or curry
1 tsp dried turmeric
½ yellow onion, diced
2 medium zucchinis, grated
1 small knob of ginger, peeled and finely sliced into thin matchsticks
Black pepper to taste
Optional: fresh red chili, thinly sliced (or dried red chili flakes)
Fresh cilantro leaves, washed and roughly chopped
Brown basmati rice to serve – allow about ⅓ to ½ cup uncooked rice per person
Instructions
1. Start cooking the rice by whichever method you prefer, i.e. in rice cooker, saucepan etc.
2. Heat a large frying pan over medium heat and add 1 can of the tomatoes, the garam masala, turmeric, onion and ginger and stir with a wooden spoon for 5 minutes or so until fragrant.
3. Add the second can of tomatoes, 1 cup of water, the chickpeas or tofu, the diced pumpkin and bring to a boil, then reduce the heat to a lively simmer. Cook for 20-25 minutes until the pumpkin is soft and the sauce has reduced.
4. Turn off the heat, add the grated zucchini and stir it through. The zucchini will cook with the heat of the curry. Taste the curry and season with pepper to taste. You can also add a little more garam masala (1 tsp at a time) to taste.
5. Serve the curry with the brown basmati rice and garnish with cilantro leaves, and some fresh or dried red chilli. Enjoy.
100% online, learn at your own pace
Instructor led format
No prerequisites
Continuing education credits