Sweet Potato Bean Burgers With Maple Dijon Sauce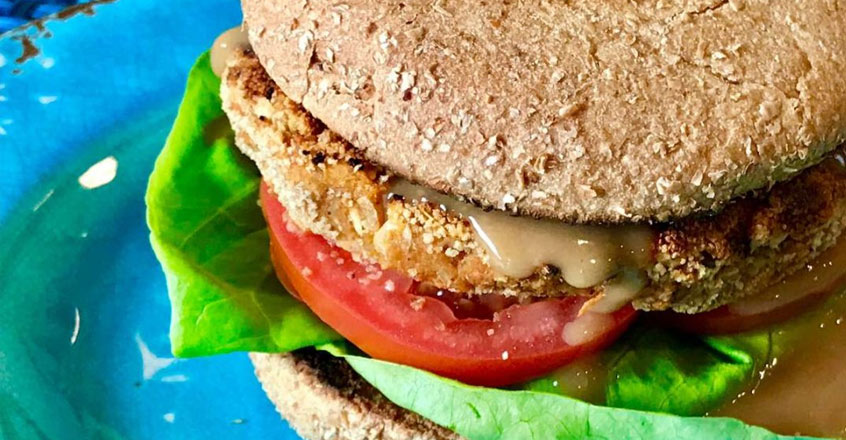 There's no need for dairy-based cheese; the burgers provide enough flavor and texture on their own. Top them with this creamy, dairy-free, maple dijon sauce, and you've got a winner at every grill party or family meal.
Recipe by Audrey Dunham, a Switch4Good team member and founder of Peanut's Bake Shop.
What You'll Need
---
BURGERS
1 ⅓ cup cooked sweet potato
1 cup canned garbanzo beans, drained and rinsed
2 Tbsp + ⅓ cup (divided) bread crumbs
1-2 Tbsp finely chopped white or yellow onion
MAPLE DIJON SAUCE
How to Make It
---
1 First, roast two large or three medium-sized sweet potatoes (poked several times with a fork) in a 375 degrees F oven for about 45 - 60 minutes. They'll be very soft and fork tender when they're done. You may not need to use all of the cooked sweet potatoes.
2 Next, combine the water and ground flaxseed in a small bowl, and set it aside for now.
3 In a medium-sized bowl, mash up your garbanzo beans with a potato masher or large fork, leaving some beans partially intact.
4 To the same bowl, add your cooked sweet potato, dry oats, 2 tablespoons of breadcrumbs, onion, spices, and salt. Finally, add the flaxseed/water mixture and stir it all together.
5 Form this mixture into four equal-sized patties. Coat each side with breadcrumbs, and put them in a non-stick pan over medium-high heat.
6 While those patties are cooking, prep your Maple Dijon Sauce by whisking together the maple syrup and mustard in a small bowl.
7 After approximately 5 - 7 minutes, flip the burgers.
8 While you're waiting for the second side to cook, prep your other toppings. I like to use lettuce, tomato, and sometimes a bit of sliced avocado.
9 Once those burgers form a nice crispy brown surface on each side, remove them from the pan, and sprinkle them with a small pinch of salt and pepper.
10 If you're like me and love a toasted bun, now would be the time to place those buns in the hot pan to lightly toast on each side.
11 The last step? Place those burgers on your buns, drizzle with plenty of Maple Dijon Sauce, load up your toppings, and enjoy!
Cooking Tips
This recipe can also be used to make a killer appetizer or side dish. Just form the mixture into small cakes instead of patties.
Copyright 2022 Center for Nutrition Studies. All rights reserved.