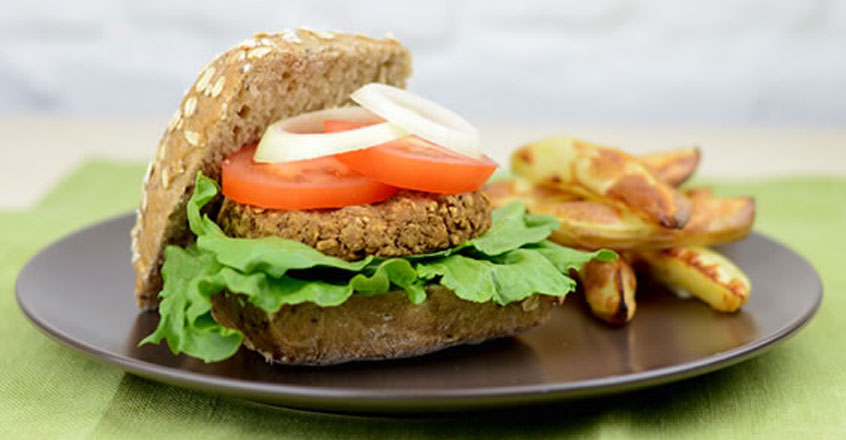 Ingredients
2 15 ounce cans brown lentils, drained and rinsed
1 tsp onion powder
½ tsp garlic powder
1 tsp dried parsley flakes
2 tsp dijon mustard
2 tsp soy sauce
2 Tbsp tomato paste
½ tsp smoked paprika or liquid smoke
1⅓ cups quick-cooking oats
Instructions
1. Preheat the oven to 375 degrees F. Line a large baking tray with baking paper.
2. Place all ingredients, except for the oats, in the bowl of a food processor. Process until near-smooth (a few whole lentils will add a nice texture.)
3. Transfer lentil mixture to a large mixing bowl. Add the quick-cooking oats and stir until well combined. Shape mixture into 10 even-sized patties and place on the baking tray.
4. Bake burger patties for 15 minutes. After this time, flip them over, then bake for a further 10 minutes.
5. Remove tray from the oven and allow the burgers to cool slightly. Serve on buns with assorted toppings, or as an accompaniment to salad.
Cooking Tips
1. If you do not use canned lentils, make sure to use ones that are a sturdy brown or green variety, as red ones do not hold their shape well enough for this purpose.
2. You can play around with this recipe and add other herbs and spices to taste, such as ground chiliies, coriander seed, cumin, turmeric or curry powder.
3. Cooked patties can be kept in the refrigerator for 4-5 days, or frozen in ziplock bags for up to 1 month.
100% online, learn at your own pace
Instructor led format
No prerequisites
Continuing education credits