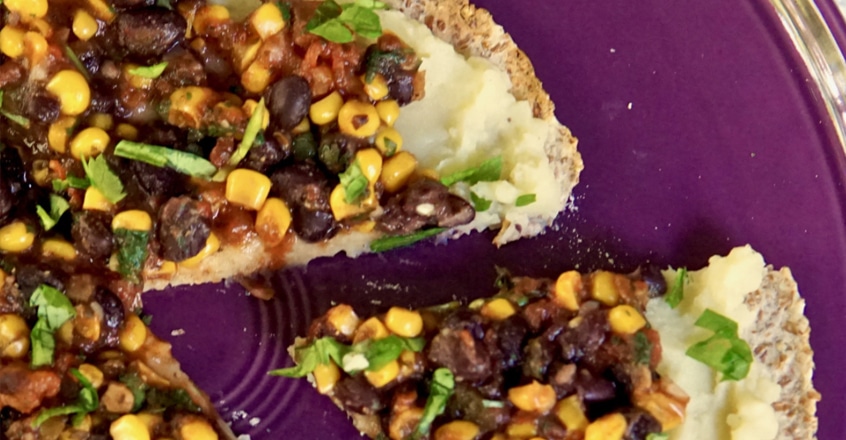 Ingredients
Base
2 sprouted whole-grain tortillas
Potato Layer
Black Bean Salsa
1 15-ounce can black beans, rinsed and drained
1 cup frozen corn
1 cup salsa
Sea salt and black pepper, to taste
Dash of smoked paprika
Garnish
Fresh cilantro (optional)
Mashed Potatoes
2 Yukon Gold potatoes, diced
Plant-based milk, plain unsweetened
Dash of onion powder
Kosher salt
Coarsely ground black pepper
Instructions
Mashed Potatoes
1. Place the potatoes in a pot of water. Bring the water to a boil, then cover, reduce heat, and continue to simmer until tender.
2. Drain the potatoes, and mash with the plant-based milk and seasonings until creamy.
3. Adjust seasonings to taste and set aside.
Tex-Mex Pizza
1. Preheat oven to 400 degrees F.
2. Combine black beans, frozen corn, and salsa in a small saucepan over medium-high heat.
3. Bring to a boil, then cover and reduce to simmer for 2 or 3 minutes.
4. Season with salt and pepper and a dash of smoked paprika. Set aside.
5. Place whole grain tortillas onto a baking sheet. Slather with a thick layer of mashed potatoes (about ¾ cup each), and then with about ¾ cup of the Black Bean Salsa mixture, for each tortilla.
6. Bake flatbread pizzas for approximately 10 to 12 minutes, or until the edges begin to turn crispy and golden brown, and the center is hot and bubbling.
7. Remove from oven.
8. Garnish with fresh cilantro, and serve immediately.
100% online, learn at your own pace
Instructor led format
No prerequisites
Continuing education credits