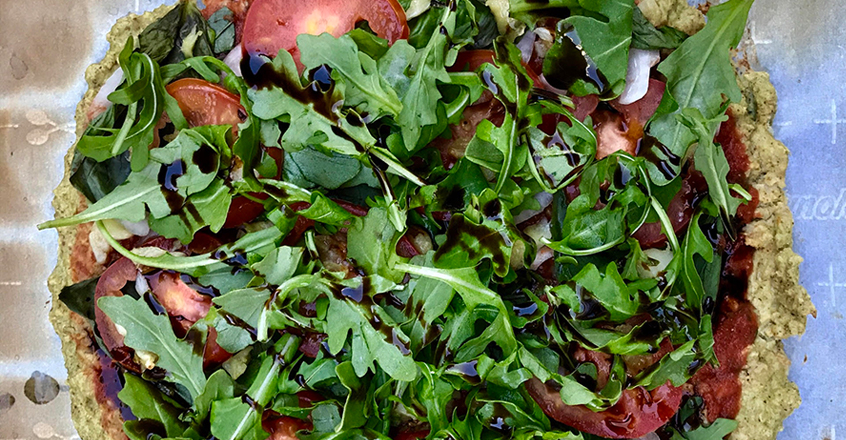 Ingredients
2 ¼ cups water
½ cup rolled oats
½ cup roasted almonds
Baby arugula
Fresh basil leaves
2 Roma tomatoes, thinly sliced
1 can diced tomatoes
1 head of garlic
½ pear, sliced
¼ sweet onion, diced
Balsamic glaze for drizzling
Salt to taste
Pepper to taste
Dried oregano to taste
Instructions
1. Add two cups of water to a pan and bring to a boil. Next add 1/2 cup of oats to the boiling water and cover, cooking on low until the oats absorb the water.
2. Add the ½ cup almonds to the blender with a ¼ cup water and blend until you have almond butter. Add the almond butter to the pan with the cooked oats and stir until they're blended together.
3. Take the oatmeal almond batter and spread into a thin pizza shape on a sheet of parchment paper. Place the crust in oven at 450 F degrees and bake until crispy.
4. Next add your head of garlic into the oven to bake along side your pizza crust.
5. While the pizza crust and garlic are baking, add the diced tomatoes to a blender with salt, pepper, dried oregano and some fresh basil to taste. Pulse until you get a smooth tomato sauce.
6. When the pizza crust is finished, remove from the oven and spread the tomato sauce on top.
7. Once the garlic is soft to the touch and the skin resembles lightly browned parchment, remove from the oven. Peel and chop a couple cloves of the garlic and add that to the pizza along with fresh basil leaves, sliced Roma tomatoes, sliced sweet onion, and sliced pear.
8. Place the pizza back into the oven for another few minutes to warm up the toppings. Remove from the oven then top with fresh arugula, a pinch of salt and a drizzle of balsamic glaze. Slice and enjoy!
100% online, learn at your own pace
Instructor led format
No prerequisites
Continuing education credits