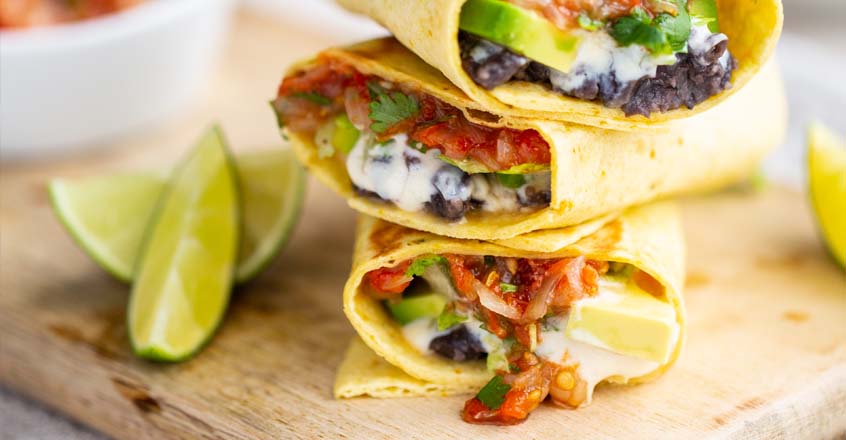 These burritos are soooo good, you'll want to have them every night. Corn tortillas are wrapped around a hearty bean mixture, vegan sour cream, salsa, avocado slices and cilantro.
What You'll Need
---
2 cups cooked black bean mixture
BLACK BEAN MIXTURE
2 cups cooked black beans
VEGAN SOUR CREAM (OPTIONAL) MAKES 1 ½ CUPS
10.5 oz (300 g) organic silken tofu
1 Tbsp ume plum vinegar (or red wine vinegar)
1 tsp finely chopped chives to serve
How to Make It
---
SOUR CREAM (OPTIONAL) MAKES 1 ½ CUPS
1 Warm a splash or two of water in a heavy-based pan over a medium heat.
2 Add the onions, sea salt, minced garlic and roasted red pepper.
3 Cook the mixture for 5 minutes, then add the cooked beans along with the bean liquid.
4 Cook for 15 minutes until the onions are soft. Transfer to a large bowl.
5 Use the back of a fork to partially mash the beans, leaving about half of the mixture as whole beans.
6 Warm the tortillas in a dry pan, stacking them on a plate covered with a damp paper towel as you go.
7 Fill the tortillas with the black bean mixture and top with avocado slices, salsa and sour cream.
8 Serve with lime wedges and fresh cilantro.
SOUR CREAM
1 Drain the liquid from the tofu.
2 Place all the ingredients except the chives into a blender. Blend on high for 30 to 60 seconds until smooth and creamy.
3 Stir the chives through (if desired) and serve.
Copyright 2022 Center for Nutrition Studies. All rights reserved.