Mexican cuisine is a natural go-to for plant-based eating. Ingredients have long been centered around beans, rice, and corn. While some of the American fast food interpretations of Mexican dishes have morphed into deep-fried burritos covered in sour cream, traditional Mexican cooking is much lighter. Corn tortillas hold locally-sourced ingredients. Diced tomatoes, onions, and cilantro make a quick topping. Fresh lime and spicy peppers add a bright kick.
Mexican cuisine is incredibly diverse, and culinary traditions vary from region to region. Dishes vary as the terrain changes: hotter, dryer areas feature spicier peppers while the chilly mountain regions use more root vegetables, and seaside towns use lighter flavors. Like Italian cuisine, the focus is on simple ingredients and fresh flavor. Where Italians will use wheat flour to make a quick pasta, Mexicans will use masa harina (cornmeal flour) for quick tortillas.
Despite the regional variations, there are some commonalities found in most Mexican dishes. If you can understand these five basic ingredients, you can start to develop a deeper sense of authentic Mexican cooking.
1. Beans, Corn, and Rice: The Starches
Naturally gluten-free, beans, corns, and rice are the starchy base for most Mexican dishes. They serve as fillings for tacos, burritos, and enchiladas. Black beans and pinto beans are simmered for creamy soups and stews. Rice is a filling for enchiladas and a breakfast staple. Corn can be ground into flour for tortillas, or grilled and dusted with chili powders for a quick street snack. And nothing beats a big 'ole pot of beans and rice.
These healthy complex carbs are also a great source of plant-based protein and filling fiber. Budget-friendly and readily available, they are often referred to as "peasant foods." Making these a staple of your own dinners will bring in authentic flavor and leave you satisfied.
Mexican Chili Bean Stuffed Peppers
These colorful stuffed peppers make impressive, easily portioned entrees for a party. Or, simply freeze extras and reheat for a quick meal for one.
Three Sisters Posole
Corn, beans, and squash are also known as the Three Sisters because they are traditionally grown together. This trio of foods has been grown, eaten, and held sacred for many indigenous peoples in the Americas.
Black Beans and Greens Over Rice
For an incredibly quick and satisfying meal, this recipe is prepared with just four nutritious ingredients–beans, greens, rice, and salsa. If you're feeling fancy, you can dress it up with any number of fresh add-ons for a truly gourmet experience: diced tomato, avocado, bell pepper, jalapeño, chopped basil or cilantro, maybe even a spritz of fresh lime juice. Any way you put it together, this classic dish is sure to be a favorite.
Ensalada Azteca
Peppers, tomatoes, red onions, and avocado bring fresh vegetable flavor packed with antioxidants, and the mango-lime dressing marries it all together with a satisfying zing that will keep you coming back for more. Serve it as a side dish at your next fiesta or pack it in your lunch box for an all-in-one entree to go!
2. Salsa and Peppers
Mexican sauces or "salsas" are often centered around the vast array of chili peppers available in the country. A salsa can be as simple as pureed roasted red peppers, or as complex as a 15-ingredient, day-long mole. For somewhere in the middle, start with an ancho chili salsa roja. Slather it over enchiladas, spoon it on beans and rice, or drizzle on roasted corn.
When choosing a pepper, how can you tell its spice level? Two of my tips for figuring out the spice level of peppers are:
Small Is Mighty Spicy
Smaller chili peppers usually pack spicier flavor. Little ghost peppers, bird chilies, and habaneros are spicier than larger Ancho and jalapeno peppers. Big bell peppers are the mildest of the pepper family.
Stripes Mean Spice
For fresh peppers, like jalapenos, stripes mean the pepper was on the vine longer giving it more time to develop its spicy flavor.
Try these recipes for experimenting with peppers and salsa:
Red Quinoa Enchiladas Rojas
Dried ancho chilies bring smoky heat to this authentic Mexican entrée. Red quinoa provides the base for the hearty filling. This makes the perfect vegan dinner for a crowd – they'll be begging for more!
Portobello Fajita Stir Fry
There is something magical about those sizzling, smokey fajitas arriving at your table when you visit a Mexican restaurant. Now you can bring that magic home with these oil-free fajitas.
Tomatillo Green Salsa
Tart and fruity, tomatillos are closely related to the tomato plant. Their wonderful lemony and herbal flavor make a perfect summertime salsa. Use it as a snack with chips, or add to chilaquiles or totchos.
Chili Con Queso and Salsa
This rich and creamy non-dairy "cheese" dip is so over-the-moon good you'll be making it again and again. The bold flavors pair beautifully with salsa. Together they can be served with a side of raw veggies or baked, oil-free tortilla chips for a healthful, crowd-pleasing snack.
3. The "Trinity": Tomato, Cilantro, Onion
Think of the colors of the Mexican flag: red, white, and green. These are also the colors of the tomatoes, onion, and cilantro that are the key flavors for Mexican cuisine. Any authentic Mexican taco is going to be topped with this trinity. Sometimes that's all that's in the tortilla! The combination of fresh flavor from the juicy tomatoes, spicy onion, and herbaceous cilantro help brighten any dish.
Make the "Trinity" in any of these dishes:
Quinoa Fiesta Bowl with Beans, Pico de Gallo, and Avocado Lime Dressing
Mexican toasted quinoa, stewed black beans, fresh pico de gallo and oil-free avocado lime dressing come together in this delicious bowl. This is an explosion of flavors and textures! Serve over crunchy romaine lettuce for a satisfying, gluten-free, plant-based meal.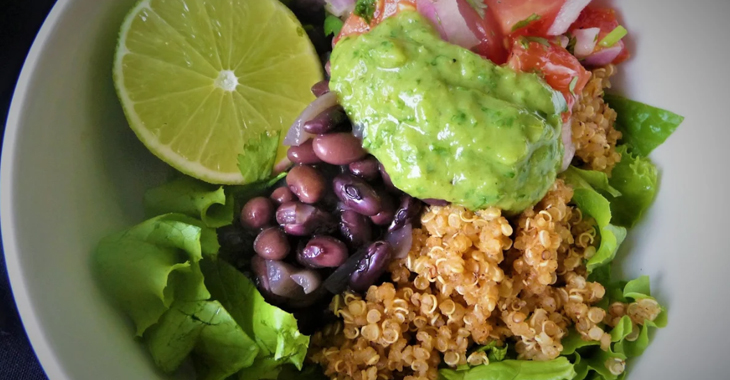 Beet and Taro Chip Nachos With Guacamole and Pico de Gallo
Golden beet and taro chip nachos are the base for black beans, fresh pico de gallo and fresh guacamole. The colors of the Mexican flag glow in this colorful dish!
Authentic Mexican Pico de Gallo Salsa
This is an authentic Mexican salsa that is very easy to make and full of light, fresh ingredients. Pile it on tostadas, tacos, beans, rice, burritos, baked potatoes and of course…tortilla chips!
4. Avocado
A healthy source of plant-based fat, avocado is an easy go-to for adding cool creaminess to any dish. Avocado is a typical ingredient in Mexican cuisine. Diced avocado is served over tortilla soup; it serves as the base for guacamole, and is added to beans salads like guaca-jica-bean salad.
Avocados are also a great substitute for traditional dairy. Use it as a replacement for sour cream, mayo, or cheese on nachos, tacos, or tostadas. Add diced avocado to salads in place of crumbled queso fresco or other cheeses.
5 Minute Guacamole: Essential Vegan Recipe
Nothing says fiesta quite like simple guacamole, an essential Mexican dish. This 5-ingredient recipe comes together with fresh flavor from avocados, lime, and cilantro. Enjoy with jicama chips or use over tacos, black bean burgers, or chili.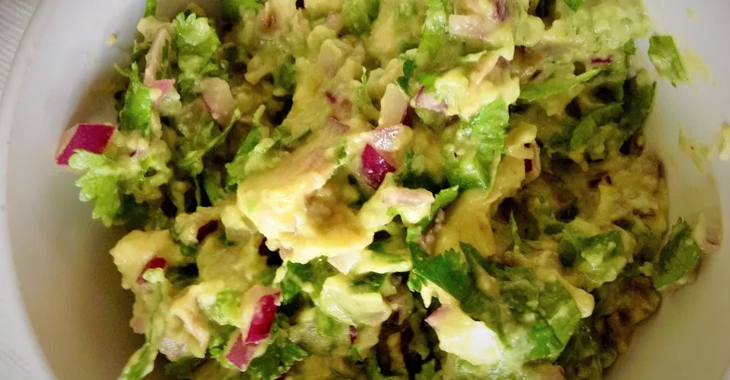 Guaca-Jica: Quick Corn, Bean, Jicama, and Avocado Salad
Crunchy, creamy, spicy, sweet – this salad has it all! Take your typical guacamole recipe and give it a boost with crunchy jicama, sweet corn, and fiber-rich black beans.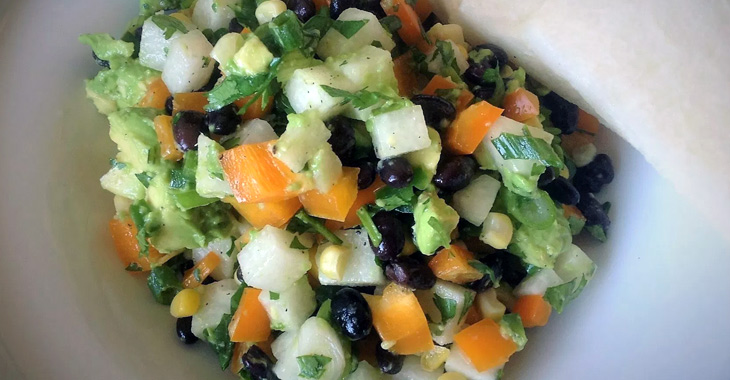 Mâche Salad With Apple, Avocado & Jalapeño
Mâche is a nutrient dense variety of lettuce–also known as lamb's lettuce–with a wonderful, nutty flavor. (Butter lettuce is a good substitute if you can't find mâche.) What really makes this salad stand out is the combination of sweet apple slices, tangy orange juice, and creamy avocado with just a hint of jalapeño heat. Supercharge your nutrition with some microgreens and a few tablespoons of hemp seeds.
5. Tortillas
The "bun" for most handheld Mexican foods, tortillas are traditionally made with masa harina (cornmeal flour) and water. Tortillas are essential for tacos, spicy tortilla soup, and enchiladas.
The masa harina used in tortillas comes from ground corn, which is treated with an acidic lime solution, giving it a distinct taste. The masa harina is mixed with water and a bit of salt then pressed into tortillas. The tortillas are often cooked on a hot griddle or Comal.
Chef Katie's Tortilla Tip: These days, the tortilla selection is pretty impressive—corn, flour, whole wheat, brown rice, spinach, sprouted grains, and even blue corn. You can find good tortillas at almost any market. Just check the label. If there's more than 5 ingredients, the authenticity factor (and the flavor quality) goes down. My favorites are a El Milagro's corn tortillas–locally made in Chicago.
Easy Vegan Lentil Tacos
Hearty lentils are cooked with Mexican spices for these easy, oil-free vegan tacos. Serve them on a busy weeknight with salsa and diced avocado. Or use them as a starting point for a plant-based taco bar with guacamole, salsa, and stewed black beans.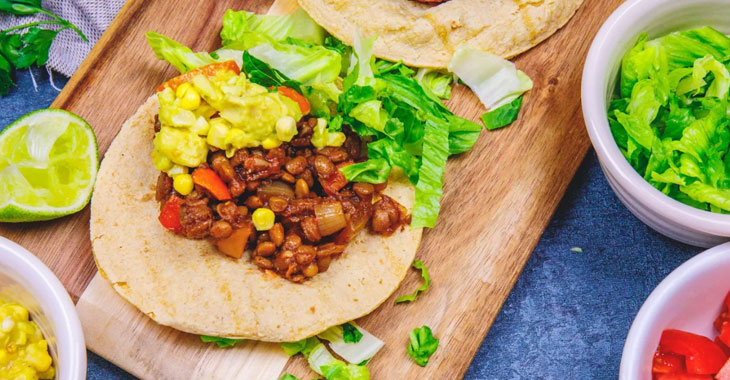 Butternut Squash Tostadas
Orange and garlic roasted butternut squash on toasted corn tortillas is the sweet-savory foundation of these next-level tostadas. Smother with a mix of sauteed onions, peppers, and black beans, then top with a bit of red cabbage for a satisfying crunch. Finally, add a spoonful of guacamole—or if you really want to impress your dinner guests, a drizzle of homemade Mexicrema dressing. You'll find you can't just eat one!
Vegan Tortilla Soup with Hominy
Fire-roasted tomatoes and hominy make this an easy pantry meal, perfect for a weeknight dinner. Authentic flavor comes from a Mexican sofrito: sautéed onion, garlic, lime zest, and spices.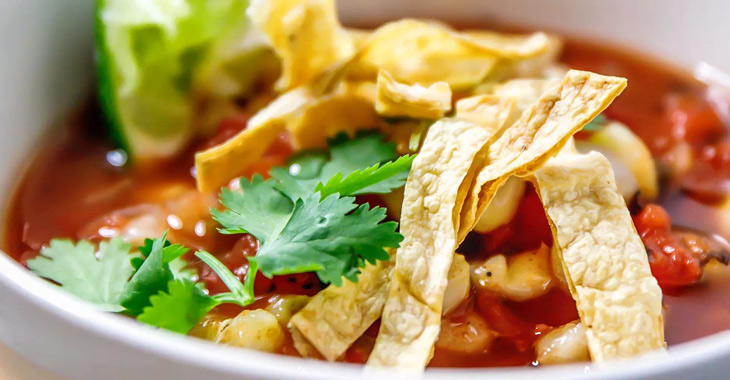 Spinach and Tofu Enchiladas
A perfect blend of cumin, coriander, oregano, cacao, and chili bring earthy flavor to this dish. Note, if you hope to have some leftovers—and you will—you may want to make a double-batch!
Copyright 2023 Center for Nutrition Studies. All rights reserved.