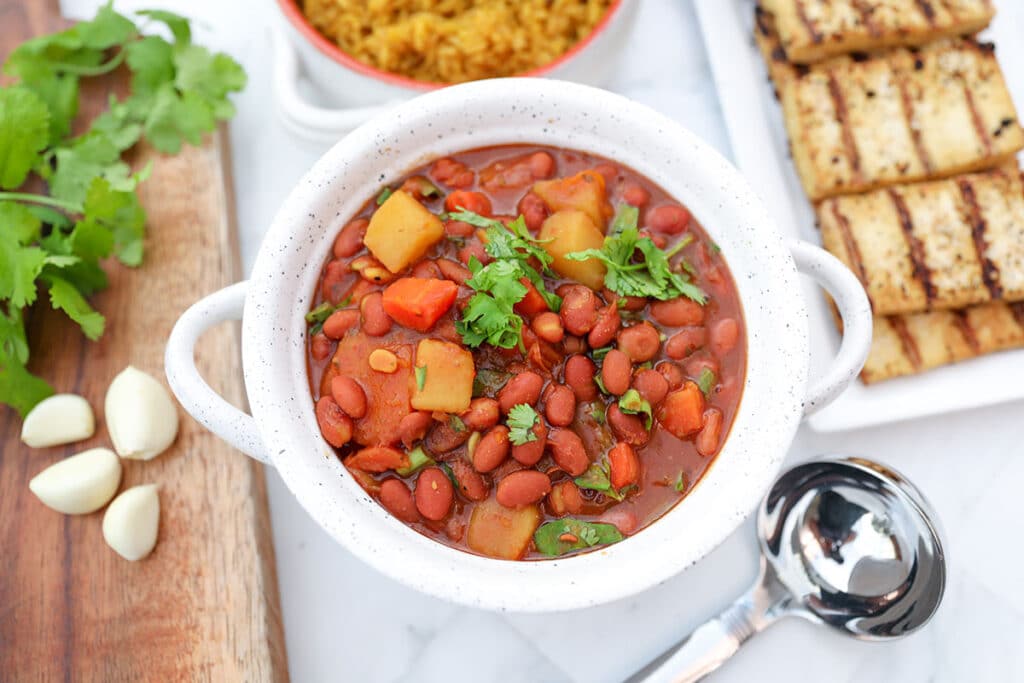 Ingredients
¾ cup diced onion
½ cup diced red or orange bell pepper
¼ cup diced sweet peppers or aji dulce (optional; see tips)
2 culantro leaves, chopped (optional; see tips)
1 Tbsp tomato paste
⅛ tsp turmeric
¼ tsp oregano
½ tsp smoked paprika
½ tsp salt or Homemade Sazón
1 carrot, diced
1 medium potato, cubed
½ cup cubed calabaza or butternut squash
2 cups low-sodium vegetable broth (or broth and reserved bean liquid)
4 cups cooked red or pink kidney beans, drained liquid reserved
4 cloves, crushed
2 tsp date paste or maple syrup
¼ -½ cup chopped cilantro
Instructions
1. In a heated pan, sauté the onions and peppers for 3–4 minutes.
2. Add in the culantro (if using), tomato paste, turmeric, oregano, smoked paprika, salt or sazón, carrot, potato, squash, and vegetable broth and cook for 5 minutes.
3. Add the beans, garlic, and date paste or maple syrup.
4. Add cilantro, stir well, and serve over brown rice or quinoa.
Cooking Tips
1. The aji dulce pepper, a vibrant pod, is well-liked in the Caribbean, especially in Puerto Rico, Cuba, and the Dominican Republic. This type of pepper goes by various names, such as ají dulce, ajicito, or ajíes in Puerto Rico; ají gustoso or ají cachucha in the Dominican Republic; or ají cachucha in Cuba. Despite resembling habanero peppers in appearance, aji dulce peppers are much smaller and do not possess the extreme spiciness characteristic of habaneros. They are commonly used in sofrito and local popular dishes.
2. Culantro is an herb with a similar aroma to cilantro that features serrated leaves and boasts a more intense flavor. Thus, it should be applied sparingly. In contrast to cilantro, it can be incorporated during cooking instead of at the end. It grows in the tropics and is found in Latin supermarkets.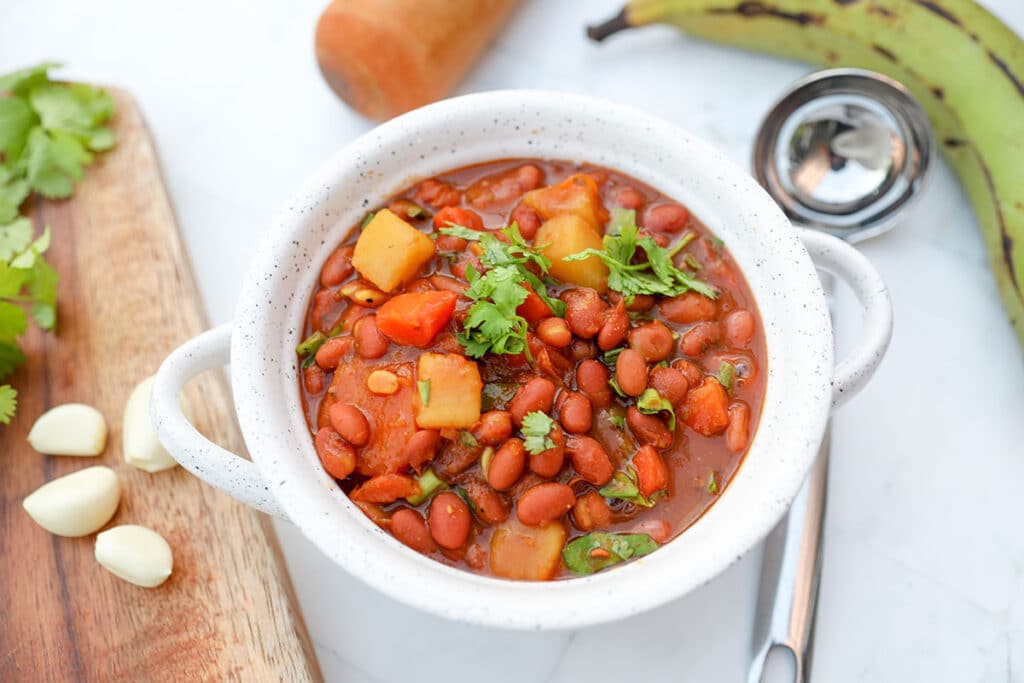 100% online, learn at your own pace
Instructor led format
No prerequisites
Continuing education credits