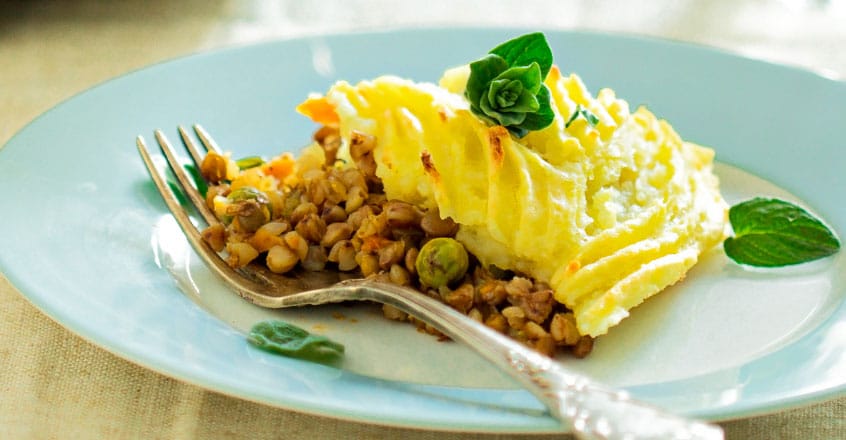 Ingredients
Mashed Potatoes
2 lbs potatoes, cubed
½ cup plant-based milk
Sea salt and pepper to tast
Filling
1 onion, diced
3 celery stalks, diced
1 carrot, diced
2 cups crushed tomatoes
6 cups cooked lentils
1 cup frozen green peas
1-2 tsp curry powder, or to taste
Sea salt to taste
Instructions
1. Preheat oven to 350 degrees F.
2. In a medium saucepan, add the cubed potatoes and enough water to cover the potatoes. Boil until tender. Drain and set aside.
3. Add the plant-based milk, sea salt, and pepper to the potatoes and mash.
4. In a skillet, sauté the onion, celery, and carrot for 3-4 minutes or until slightly tender.
5. Add the curry powder and sea salt to the vegetable mixture and stir to combine. Cook for 1 minute.
6. Add the crushed tomatoes, lentils, and peas, and cook for 5 minutes.
7. In a deep baking dish, spread half the mashed potatoes and flatten to cover the bottom of the pan. Add the seasoned vegetable and lentil mixture, and then top with the remaining mashed potatoes.
8. Bake for 20 minutes.
100% online, learn at your own pace
Instructor led format
No prerequisites
Continuing education credits