Corn & Millet Summer Salad With Creamy Chickpea Sauce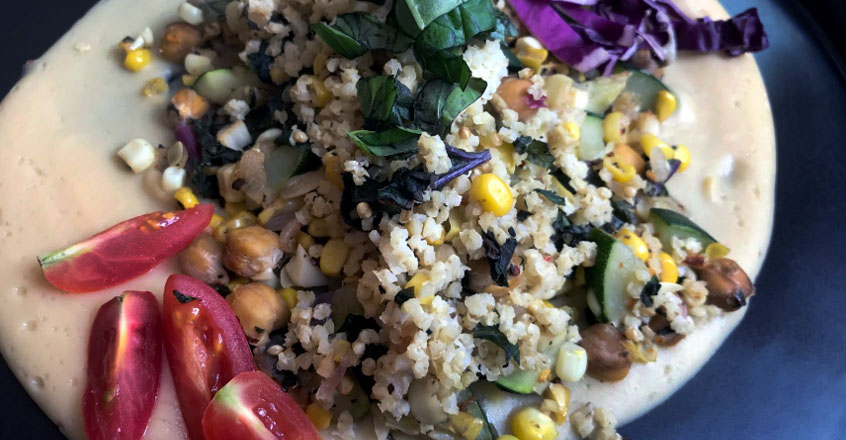 What You'll Need
---
2 ears of corn cut off the cob
1 15oz can of chickpeas, drained
¼ cup chopped fresh basil
1 tsp of salt free seasoning
¼ tsp crushed red pepper (optional)
CHICKPEA SAUCE
1 15oz can of chickpeas with liquid
1 lemon zested and juiced
Tomatoes and chopped red cabbage for garnish
How to Make It
---
1 Cook the millet according to package instructions.
2 To prepare the sauce, place the chickpeas with liquid, garlic, lemon juice, and zest in a high speed blender and blend until creamy and smooth. Set aside.
3 Heat a large cast iron or non-stick frying pan. Add the onion and saute until translucent.
4 Add the zucchini and garlic to the pan, stirring to spread evenly across the pan. Then, do not stir for approximately 4-5 minutes until zucchini begins to soften and brown.
5 Stir in the corn, kale, chickpeas, millet, basil, and seasoning and continue to cook for about 2 minutes or until hot.
6 Spread the chickpea sauce on a plate and top with the hot millet mixture. Garnish and serve.
Copyright 2022 Center for Nutrition Studies. All rights reserved.