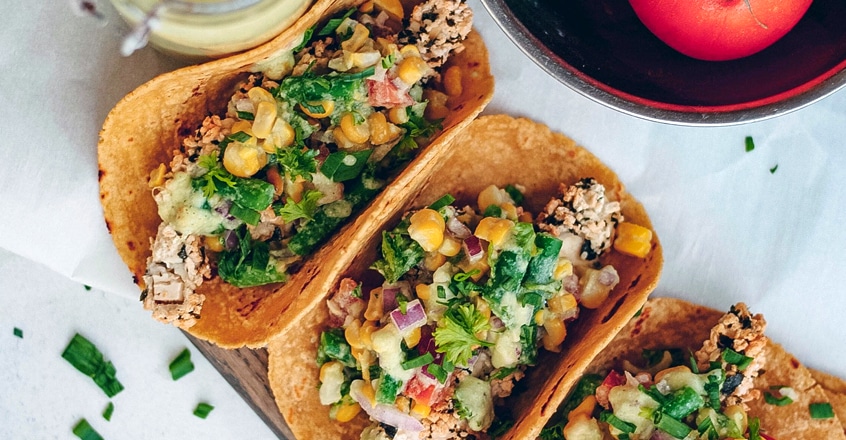 Ingredients
Tofu Tacos
12 oz. extra firm tofu
1 cup unbleached whole wheat flour
1 tsp garlic powder
1 tsp onion powder
Salt and pepper to taste
1¼ cup unsweetened almond milk
2 nori sheets
1 cup whole grain breadcrumbs
8-9 corn tortillas
Green onion, chopped
Fresh parsley, chopped
Corn Salsa
3 ears grilled corn
¼ onion, finely diced
½ cup green beans, stems removed and cut into 1-inch pieces
¼ cup fresh parsley, chopped
1 vine tomato, chopped
½ tsp salt
Zucchini Dressing
2 zucchini, peeled and diced into chunks
¼ cup sunflower seeds soaked in boiling water for 20 minutes
1 Tbsp fresh dill
2 Tbsp lemon juice
½ cup unsweetened almond milk
2 garlic cloves
¾ tsp salt
Pepper to taste
Instructions
Tofu "Fish"
1. Preheat oven to 400 degrees F. Line a large baking sheet with a silicone baking mat or parchment paper.
2. Squeeze out excess water from tofu. Slice tofu into strips that are about 2 inches long by 1 inch thick.
3. In a large mixing bowl, whisk the flour, garlic powder, onion powder, salt, pepper, and almond milk until combined.
4. In a food processor, process nori sheets into a rough powder. Add into a separate mixing bowl and stir in breadcrumbs.
5. Taking one tofu strip at a time, dunk in the wet mixture and then toss in the breadcrumbs, making sure to evenly coat. Repeat with the rest of the strips.
6. Transfer strips to the prepared baking sheet.
7. Bake for 28-30 minutes, or until golden brown and crispy.
Corn Salsa & Dressing
1. While the tofu is baking, grill the corn. Wrap each ear of corn tightly in foil. Transfer to a hot grill, cover the lid, and cook for 20 minutes or until charred.
2. Steam zucchini for 5 minutes until soft and tender.
3. Place zucchini in a high-speed blender, along with the rest of the dressing ingredients. Blend until smooth and creamy. Pour into a jar and set aside.
4. Bring a pot of water to a boil. Add the green beans and cook for 4 minutes. Place green beans in an ice water bath, drain, and set aside.
5. In a large bowl, cut the corn kernels off the cobs. Add the chopped red onion, blanched green beans, parsley, chopped tomato, salt, and ⅔ cup of the green dressing. Stir to combine.
Assemble
1. (Optional) Grill the corn tortillas until warm and grill marks are visible.
2. Slice the tofu "fish" in half lengthwise and add onto the tortilla. Top with a spoonful of corn salsa.
3. Serve with chopped green onions, parsley, and a drizzle of the reserved zucchini dressing.
100% online, learn at your own pace
Instructor led format
No prerequisites
Continuing education credits