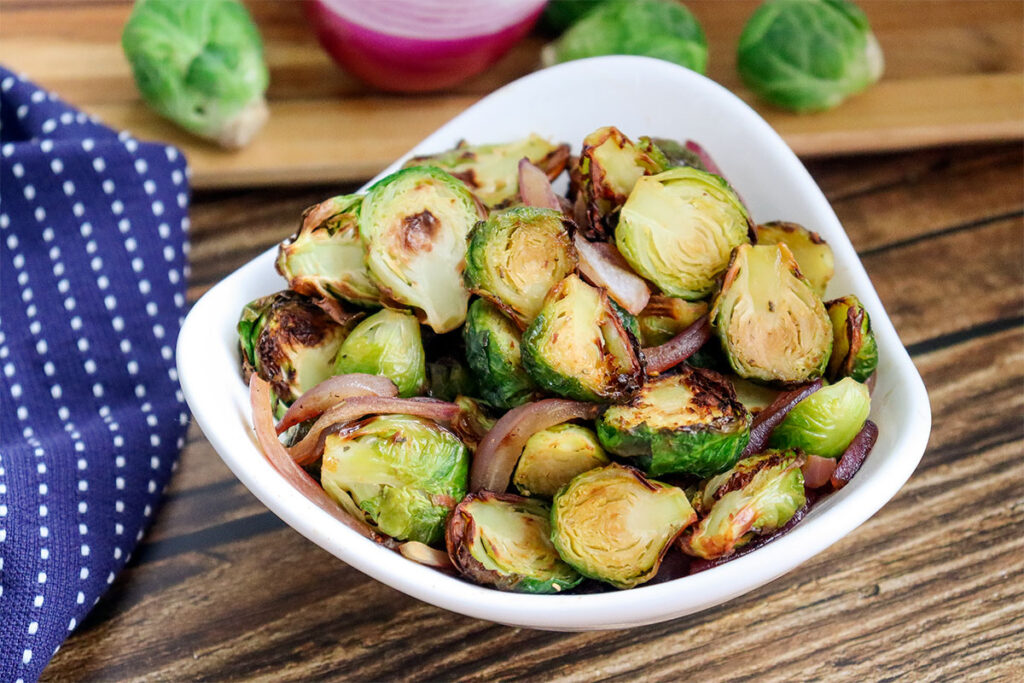 Ingredients
1 small red onion
1 tsp smoked paprika
1 ½ lbs Brussels Sprouts
Salt and pepper
1 cup water
Instructions
1. Preheat a wide pan over high heat. Use cast-iron, if possible.
2. Peel, halve, and thinly slice the red onion.
3. Once your pan is incredibly hot, add the red onion in a single layer. Add the smoked paprika on top.
4. Leave the onions alone and let brown for about 5 minutes.
5. Meanwhile, trim the bottoms from the Brussels Sprouts and cut in half. Allow the outer leaves to fall off and discard (these are often bitter). Wash the halved Brussels to remove any grit.
6. Once the onions start to brown, stir and continue cooking until well-browned, another 5 minutes or so.
7. Move the onions to the side of the pan.
8. Add the halved Brussels Sprouts to the pan and spread as close to a single layer as you can. Allow the Brussels to char for a couple of minutes before stirring.
9. When the Brussels brown on one side, stir and continue cooking until all of them have a little bit of color. Stir frequently to prevent burning.
10. After about 5 minutes, add 1 cup of water to the Brussels. The steam should finish cooking them. If they are bigger, though, they might take longer so add more water to prevent burning.
11. Season with salt and pepper and serve.
Cooking Tips
1. For an even sweeter twist, use 2 shallots instead of the red onion. You can also make this with cauliflower florets or Cipollini onions instead of the Brussels.
100% online, learn at your own pace
Instructor led format
No prerequisites
Continuing education credits