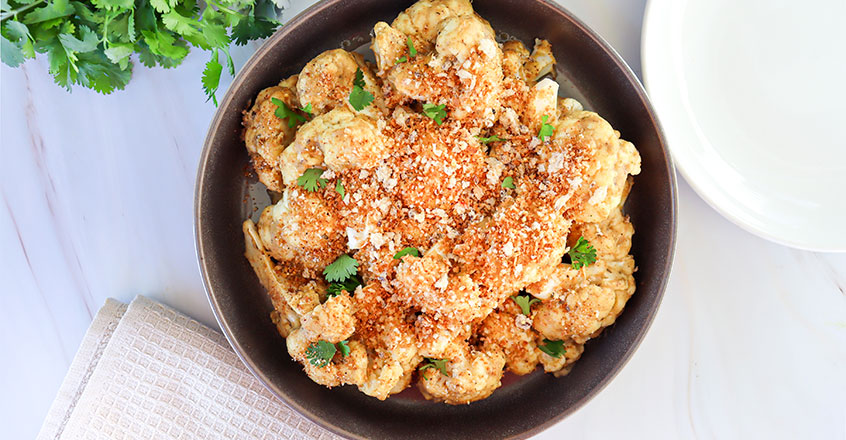 What You'll Need
---
2 lbs. cauliflower florets, trimmed
SAUCE
½ cup yellow onion, finely diced
1 Tbsp unsalted almond butter
¼ cup unsweetened plain plant-based milk
1 ¼ cup water (or vegetable broth)
SPICES/HERBS
2 Tbsp dried minced onions
TOPPING
3 Tbsp whole grain bread crumbs
OPTIONAL SERVING INGREDIENTS
Potatoes (boiled, mashed, roasted, or baked)
Side of greens (steamed or raw with a splash of vinegar)
How to Make It
---
1 Preheat oven to 400 degrees F.
2 Line a 14"×20" baking sheet with parchment paper and set aside.
3 Trim the cauliflower into medium-size florets, making sure to remove the harder ends. Spread the cauliflower out evenly on the parchment paper.
4 Roast the cauliflower for 15 minutes.
5 In the meantime, make the topping by placing all the topping ingredients in a small bowl, combine well, and set aside.
6 In another small bowl, combine all the spice/herb Ingredients and set aside.
7 In a large Dutch oven or skillet (or similarly large stockpot), add the diced onions and sauté over medium-high heat until the onions soften, approximately 7 to 9 minutes. Add a splash of water (or broth) if the onions start to burn. Then, add the minced garlic and sauté for one minute, stirring constantly.
8 Next, add the almond butter and flour to the skillet, and sauté while stirring constantly, pushing the almond butter and flour into the onions and garlic. The mixture will be lumpy. Then, add all your remaining sauce ingredients and the spice/herb mix. Increase the heat to high and whisk well for several minutes to incorporate the mixture into a smooth sauce. Simmer for several minutes, then turn the heat on low until the cauliflower is done roasting.
9 Once the cauliflower is ready, remove from the oven, then place the roasted cauliflower into the sauce (see notes on cauliflower-to-sauce ratio), and stir well to coat the cauliflower. Then, place the cauliflower/sauce mixture in a small casserole dish and sprinkle evenly with the topping.
10 Bake for 10 minutes, then switch the oven to broil and cook for another 3 to 5 minutes or until the top is golden brown.
11 Remove from the oven, allow to sit for 5 minutes, then sprinkle with freshly chopped parsley.
Cooking Tips
For this recipe, the cauliflower is not swimming in sauce. There is just enough sauce to thoroughly coat all the cauliflower. If you prefer a saucier type of casserole, reduce the amount of cauliflower.
If you like your cauliflower more tender, bake it for 20 minutes or longer.
When blending the liquids (water, vegetable broth, plant milk) into the flour/almond butter, you may feel like it is not going to come together. Use the back of a rubber spatula to mash the flour and almond butter into the liquid, stirring and pushing it together. It will come together as the heat increases, and it will start to thicken; keep stirring until thick like gravy.
Space the cauliflower florets out on the parchment paper so they have room to roast properly. Place the largest pieces on the outer edges and the smaller ones in the center. The edges tend to get more heat than the center.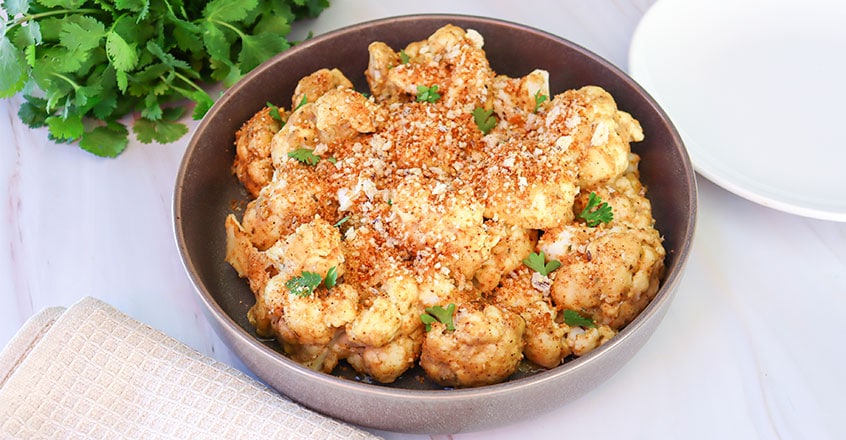 Copyright 2022 Center for Nutrition Studies. All rights reserved.